(November 2014)
Dette er en retrofit jeg gjorde for Simen ST i november 2014.
Hardware:
Depo JDM-style one-piece Galant hovedlykter, ferdig konvertert med FEUN-projektorer, en for nærlys og en for langlys. Begge projektorene var like, med unntak av at langlysprojektoren ikke hadde lysskjold.
Morimoto Mini D2S 3.0 LHD "O" Lens
EvoX-R
"Iris" pyntedeksler
Philips 85122 D2S 35W pærer
4x F3 Fast Bright 35W ballaster
2x TRS HD Relay ledningsnett
Langlyssplitterkabler
Disse lyktene kjøpte jeg opprinnelig til min egen bil og brukte i ca tre år, men etterhvert som tiden gikk forsvant lyset på grunn av dårlige projektorer og svidde projektorkupler. Å stappe 50W ballaster og pærer i dem hjalp heller ikke på saken. Merkelig nok, etter årevis med misbruk, var langlysprojektorene fremdeles blanke inni, mens nærlysene var helt svidde.
Jeg gjennomførte en midlertidig retrofit i disse lyktene og hadde Mini H1-projektorer som nærlys (og langlys) en periode, frem til de skulle få noen skikkelige projektorer...
Da jeg begynte på dette prosjektet var planen å bruke de originale langlysreflektorene som base for EvoX-R-projektorene, men noen kjappe mål viste fort at det ikke var mulig å få til - projektorene var rett og slett for store. Jeg måtte derfor komme opp med en annen plan.
Jeg snakket med vaktmesteren på jobb en dag og la merke til at han hadde noen metallplater liggende i hyllene sine, og det siste seg å være gamle parkeringsskilt og dørskilt i aluminium som skulle kastes. Jeg fikk noen av disse, da de var grei tykkelse på, stive nok til å kunne bores i og kuttes i uten at de ville vri seg for mye, men ikke så harde at jeg ikke kom noen vei. Jeg tegnet opp plasseringen for beina på langlysreflektorene, boret ut huller og satte i justeringsmutre i hullene.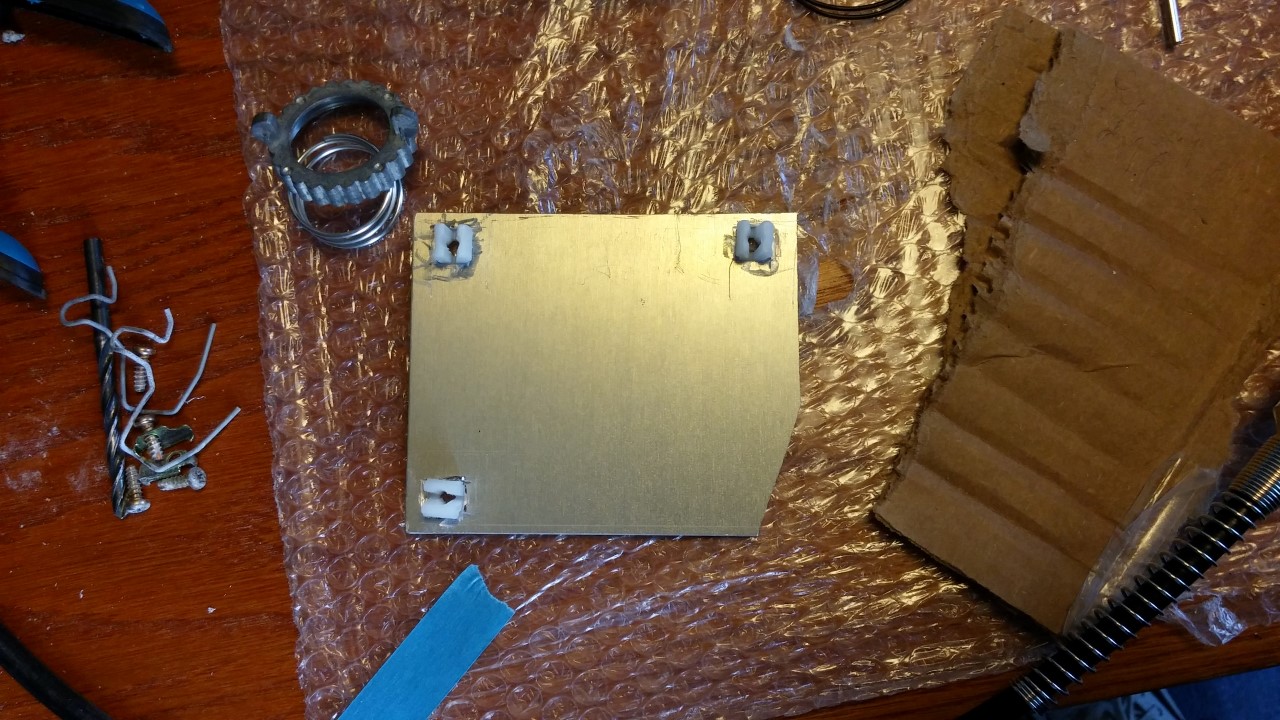 Deretter var det bare å kutte vekk midtpartiet for å få plass til projektorbollen fra EvoX-R-projektoren: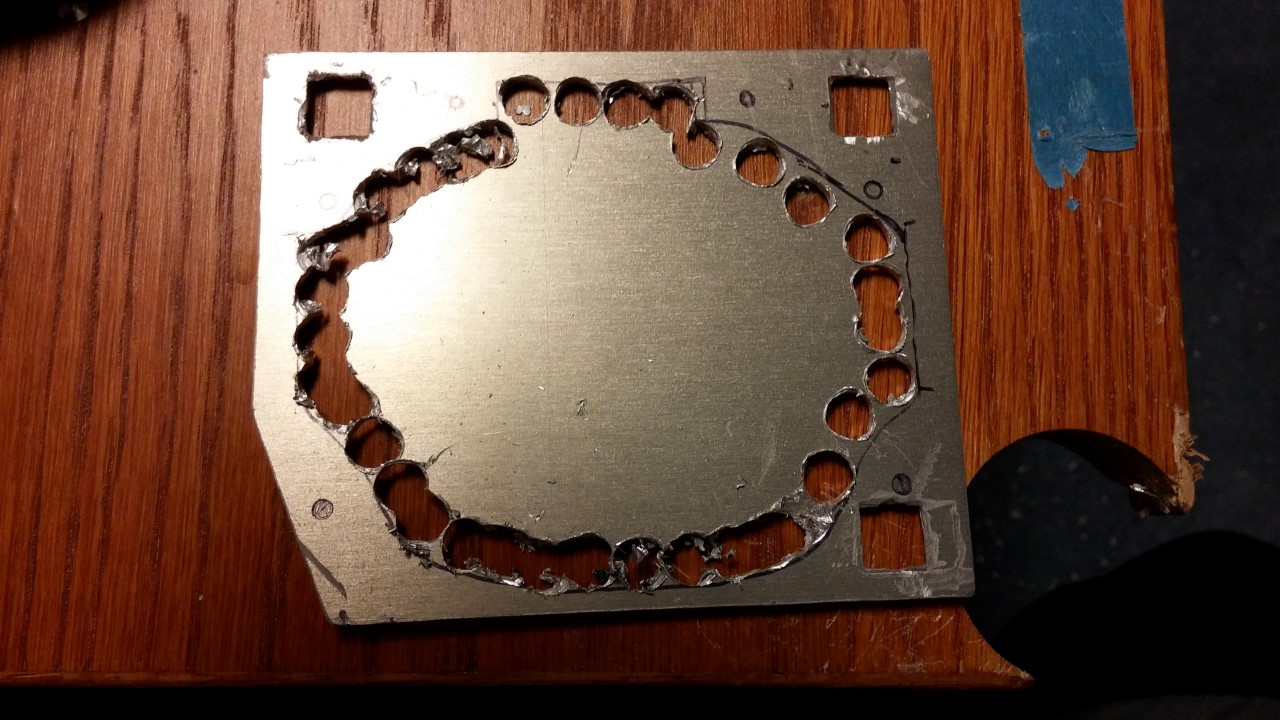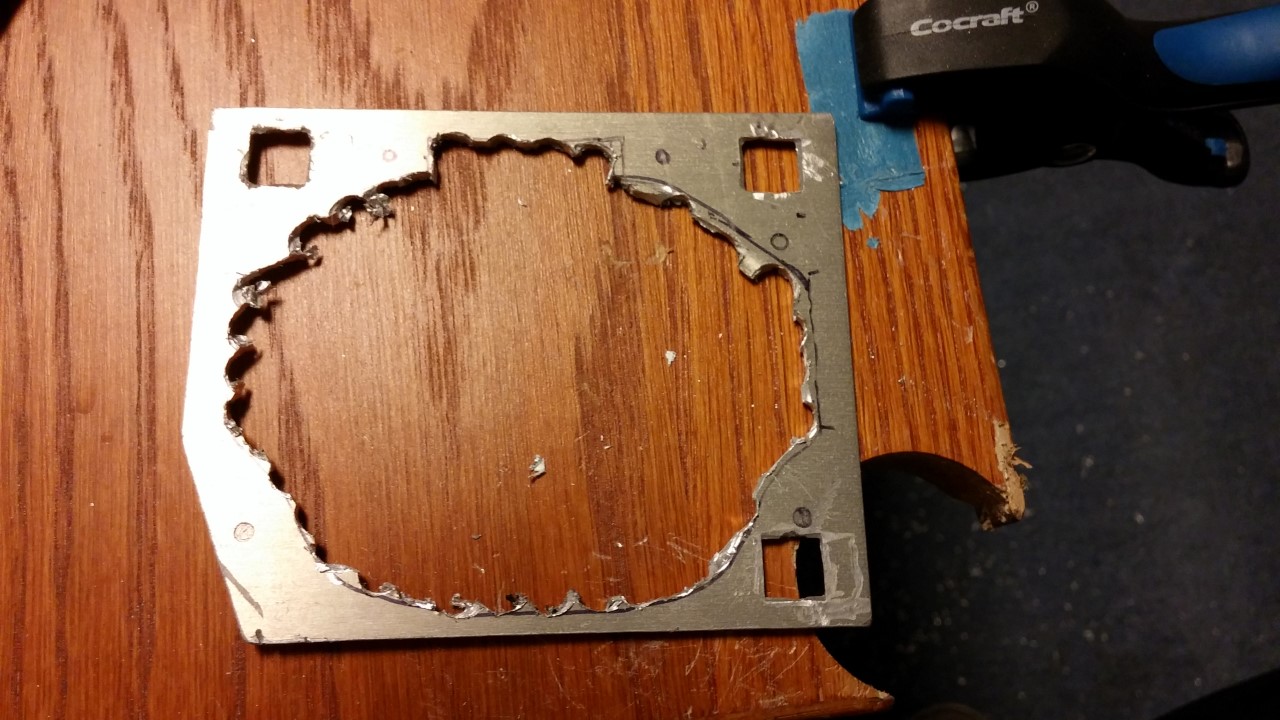 Testmontering. Jeg måtte sage av det ene beinet påfra langlysreflektoren og epoxylime den til braketten for at justeringsskruen skulle nå justeringsmutteren.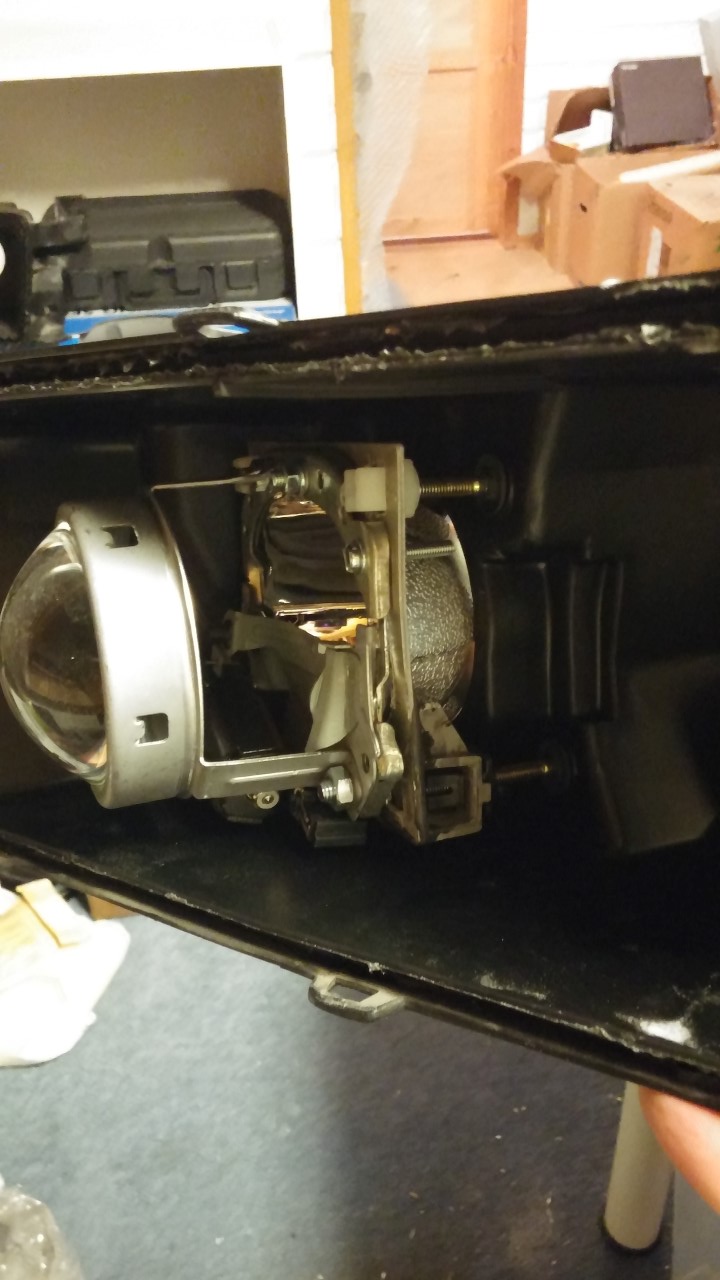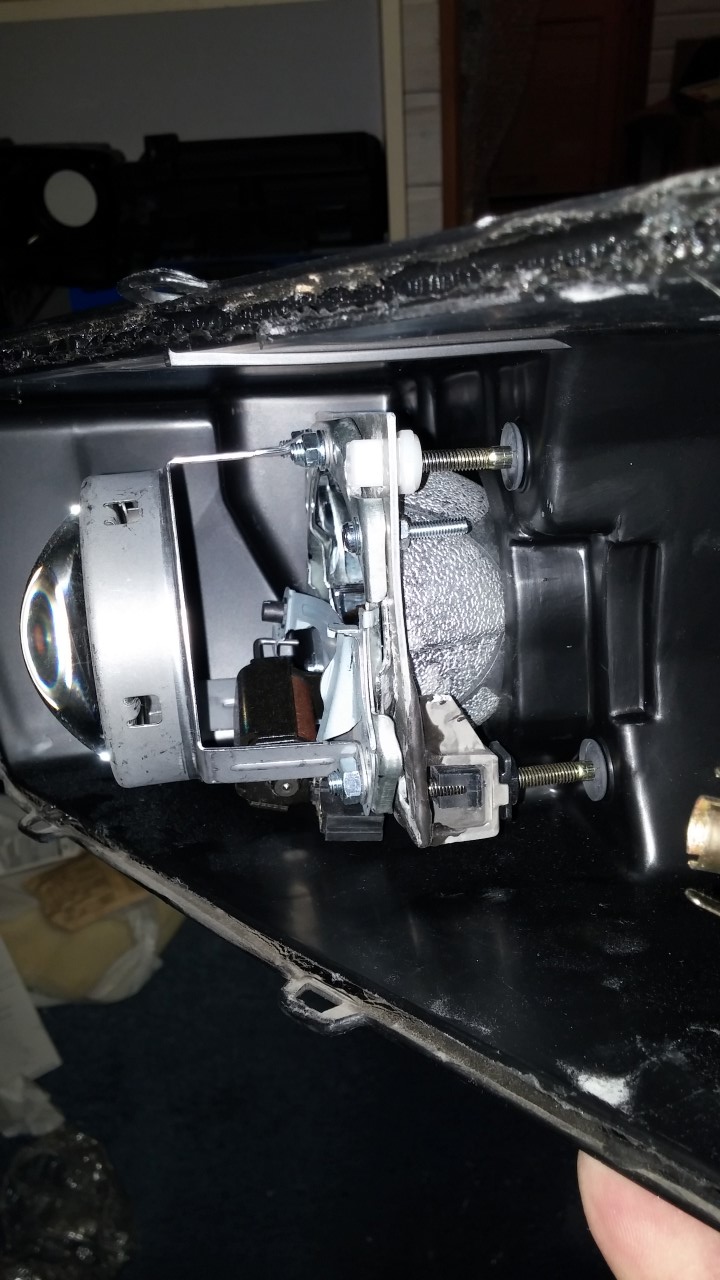 Vinklene ser riktige ut, uten at flush mount er noen som helst indikator på at lyset går der det skal...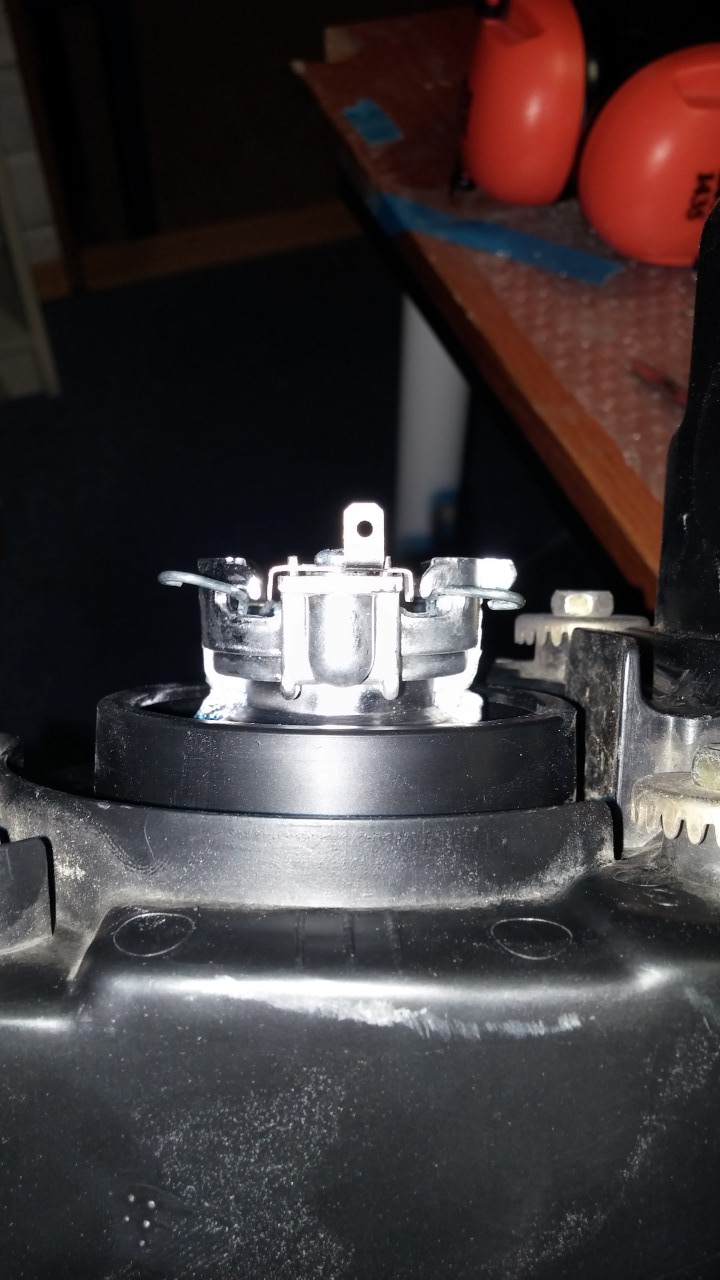 Sentrert og fint... Pæreholderen var noe for stor til å gå gjennom hullet i bakkant av lyktehuset, så det måtte en del overtaling til for å få det til.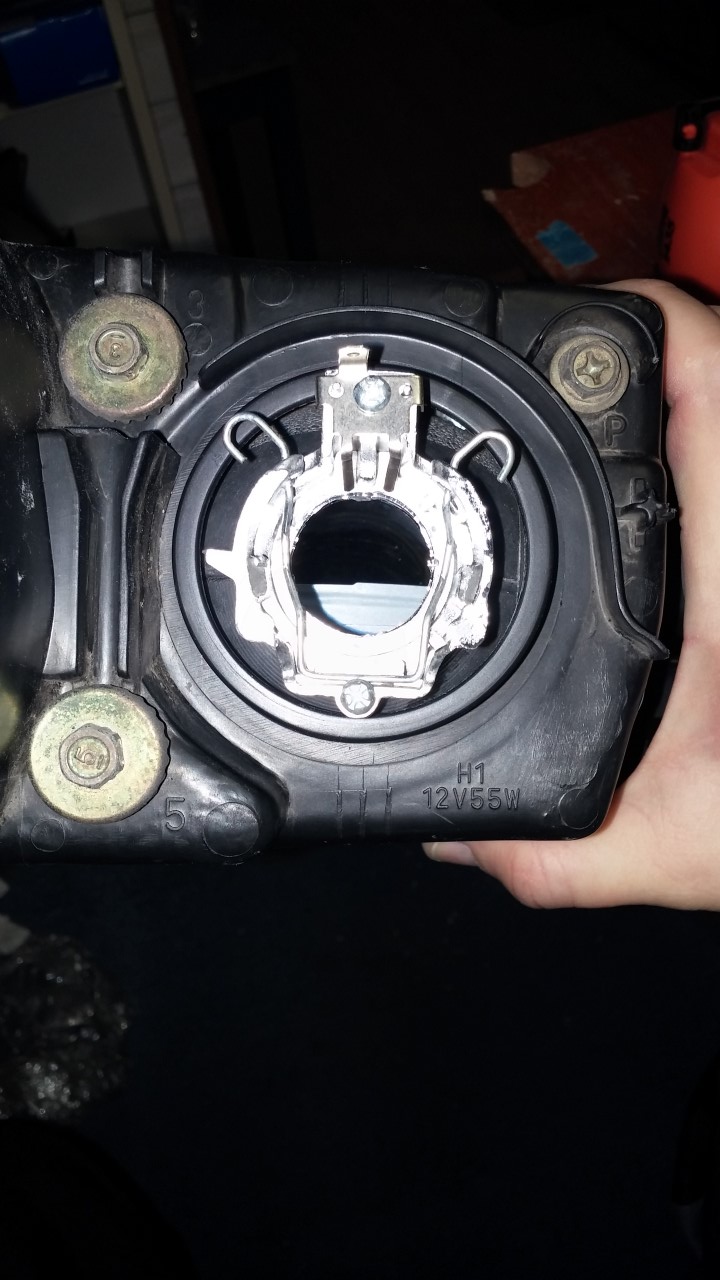 Installert: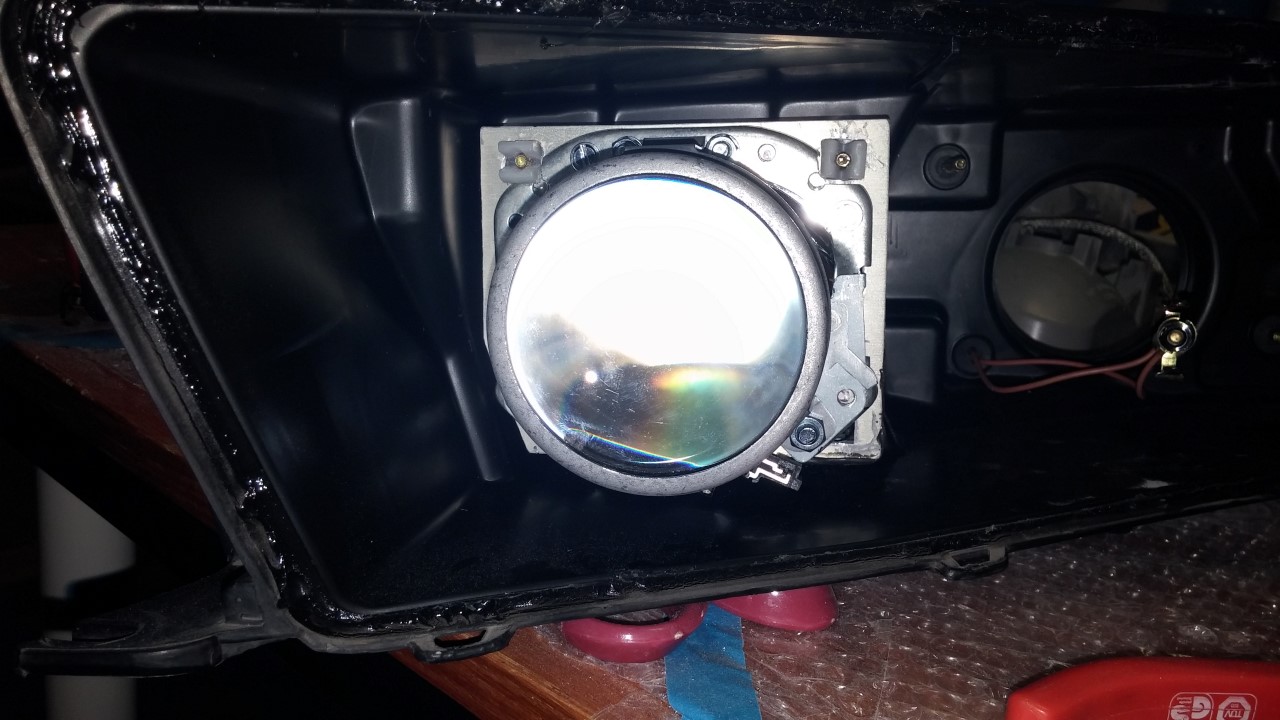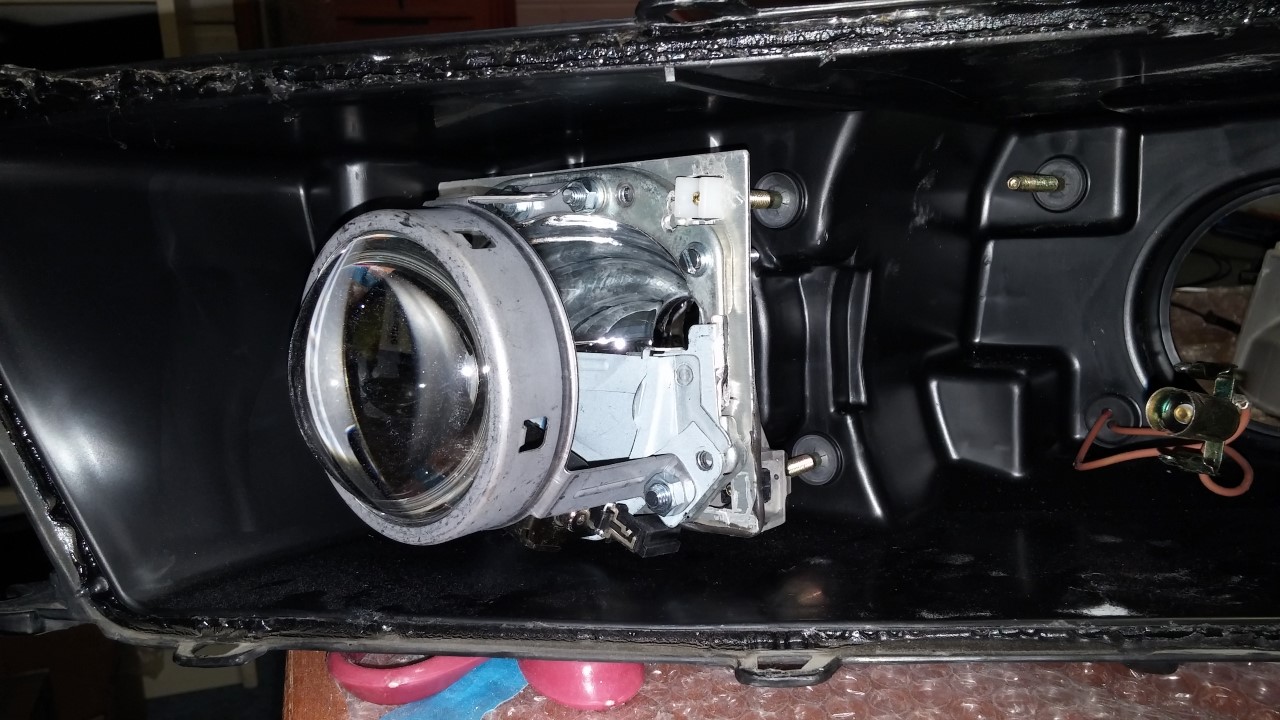 Mini D2S installasjon og justering: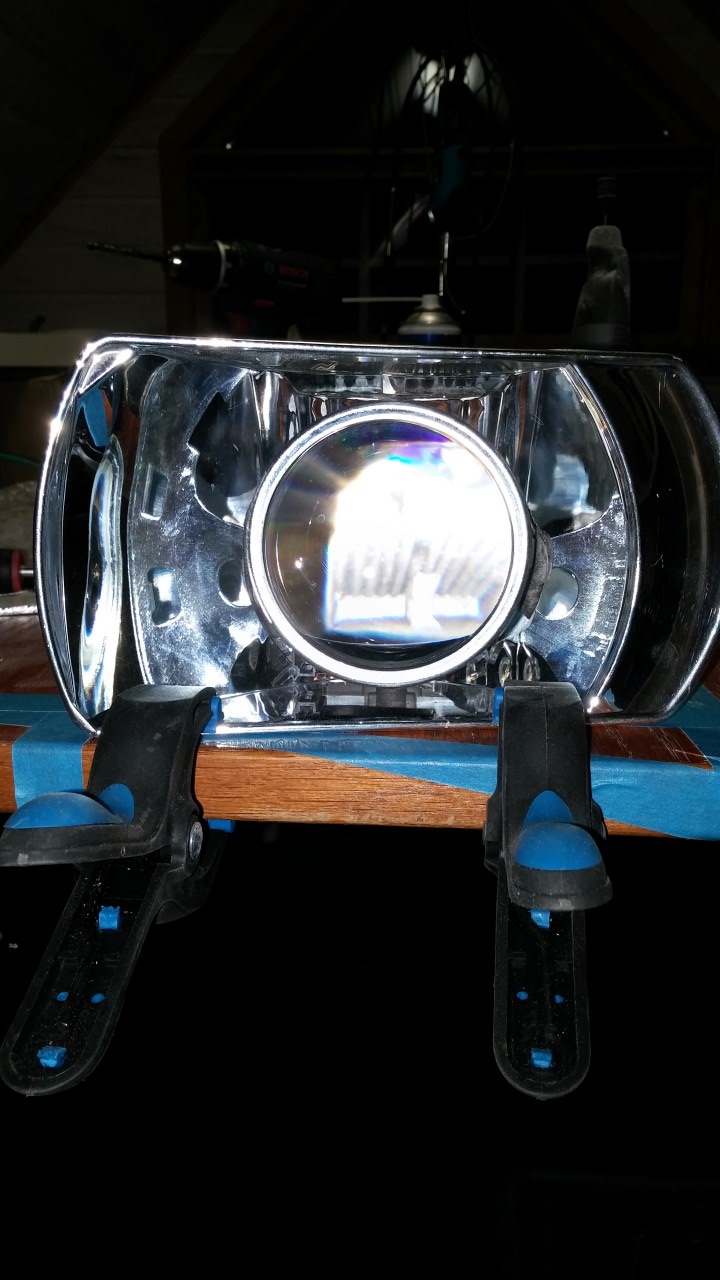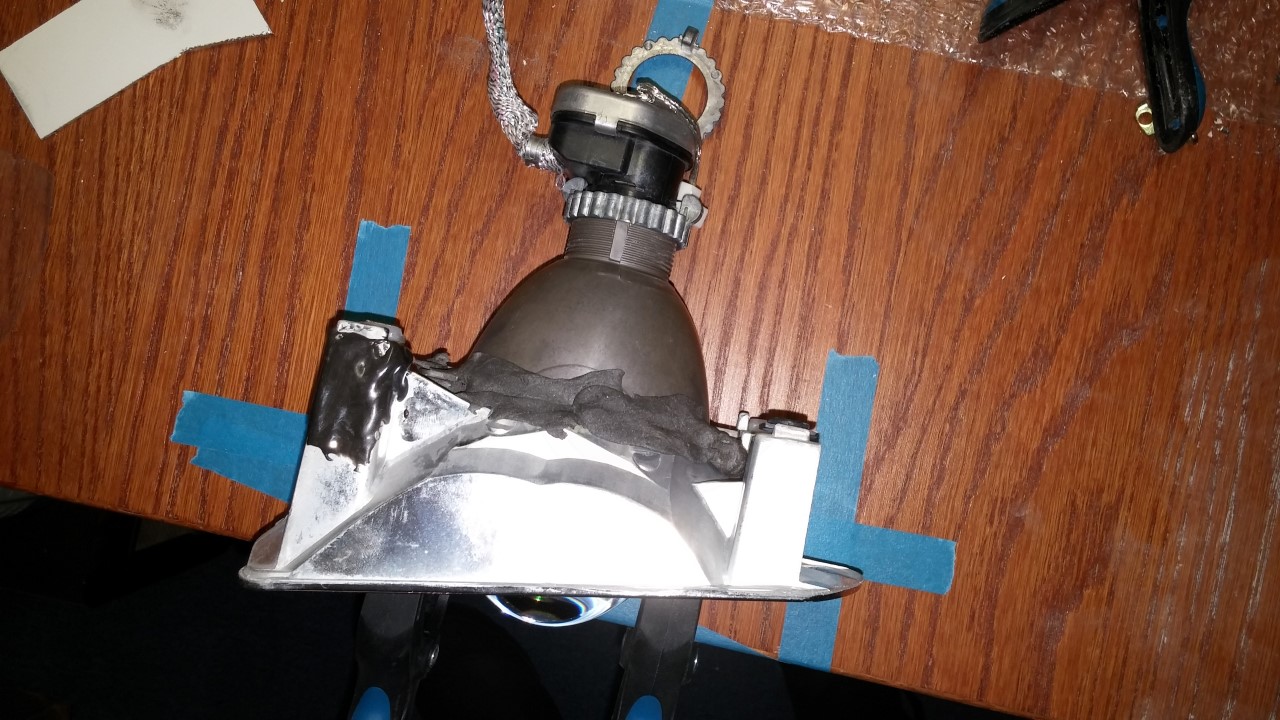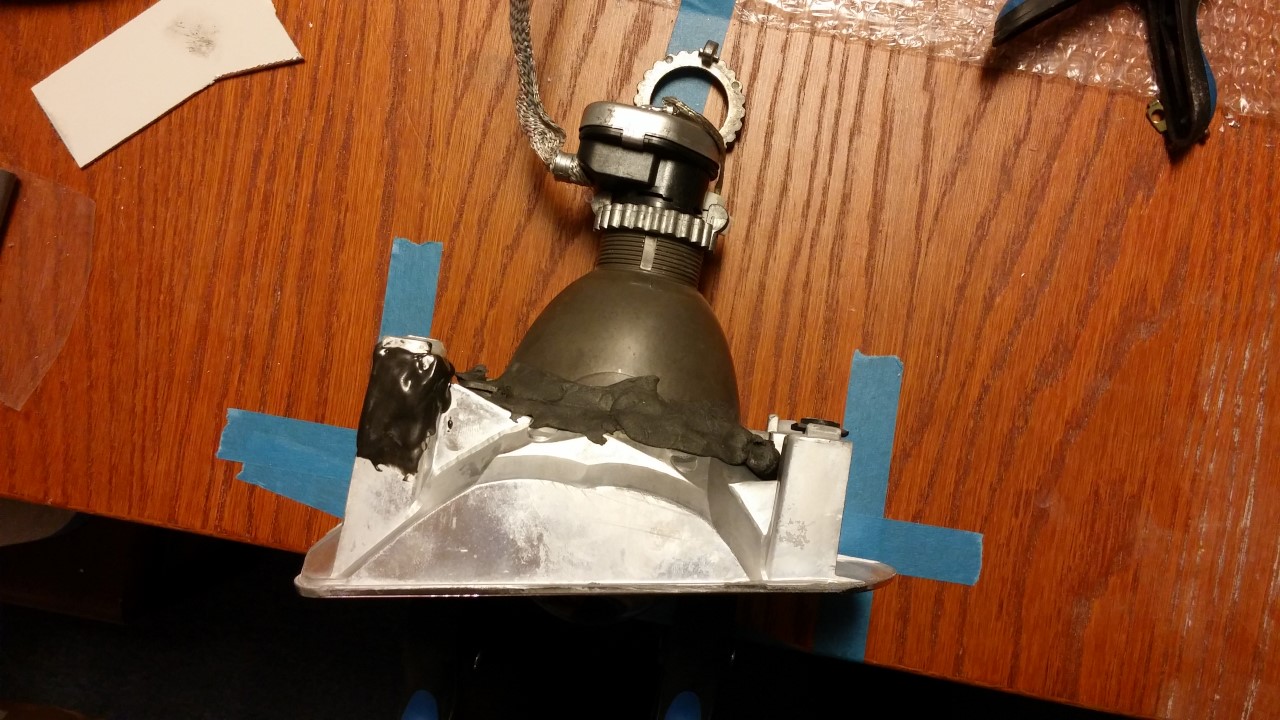 Nærlysreflektor på plass med Mini D2S på plass, samt deksel fra lykteglasset (fra en original todelt Eurolykt):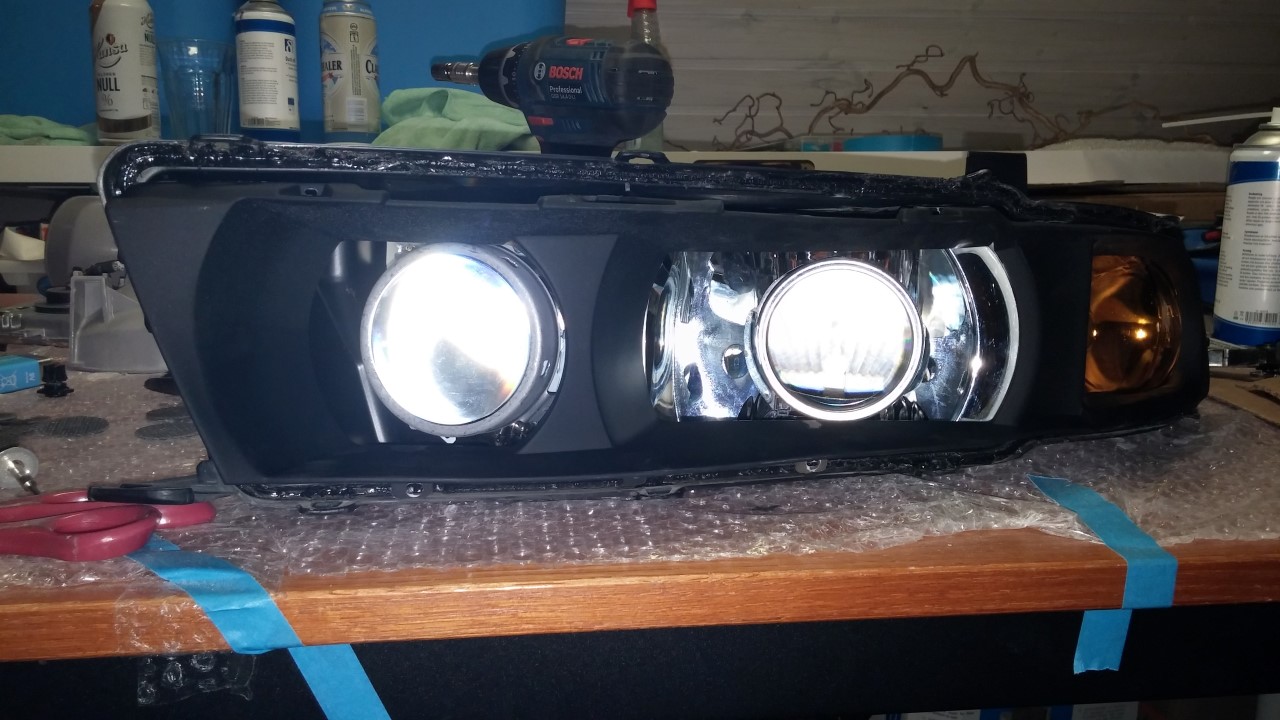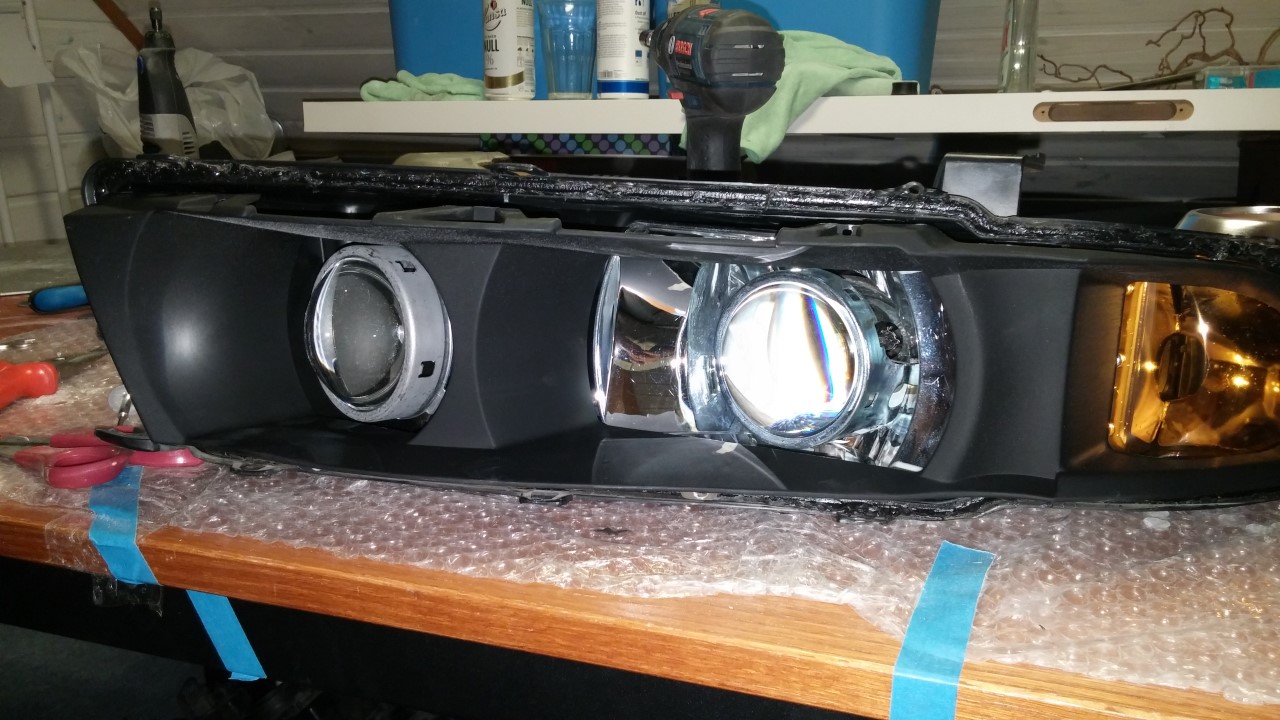 Omtrent her innså jeg at EvoX-R-projektoren satt altfor langt bak i lyktehuset, for det var absolutt ingenting å gå på i noen retninger for å kunne justere projektoren. Bakkant og underkant av projektoren satt på gulvet av lyktehuset og subbet uansett hva jeg prøvde på, så jeg måtte finne på noe for å få den noe lenger fremover. Problemet her var at hvis jeg fikk den for langt frem, så ville pæreholderen ta i kanten av åpningen i lyktehuset og gjøre ting enda verre, eller linsen på projektoren kunne ta i lykteglasset. Løsningen ble å kutte av resten av beina fra langlysreflektorene og epoxylime dem til brakettene. Dette løste flere problemer - det ble enklere å tre justeringsmutterne inn på justeringsskruene, projektoren kom lenger frem, det ble enklere å få pæreholderen gjennom på baksiden (uten at jeg skjønte hvorfor) og det ble mulig å justere horisontal og vertikal plassering.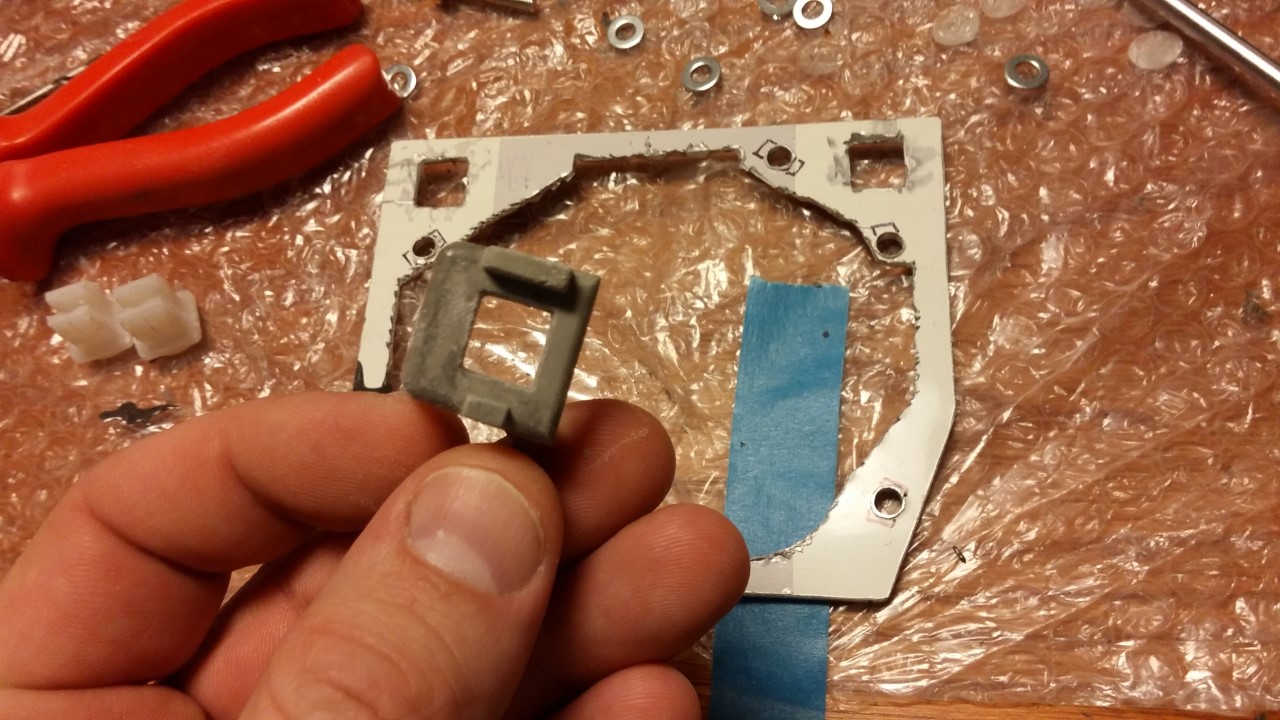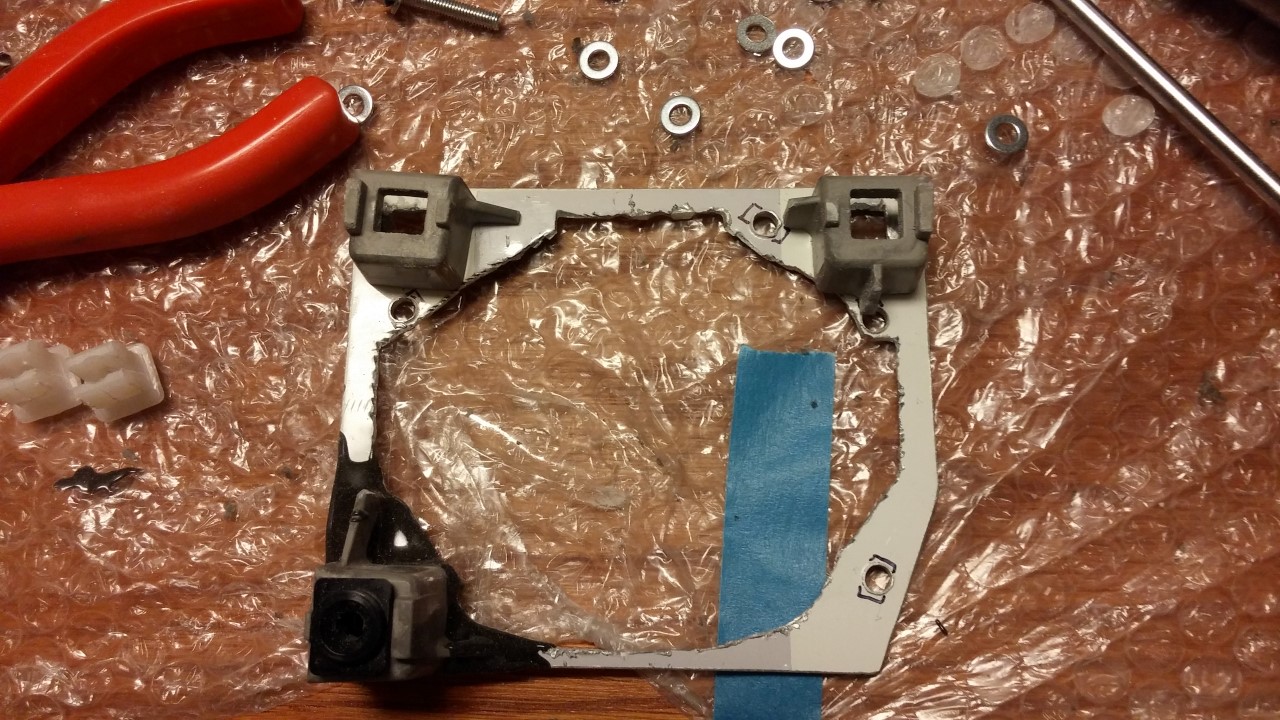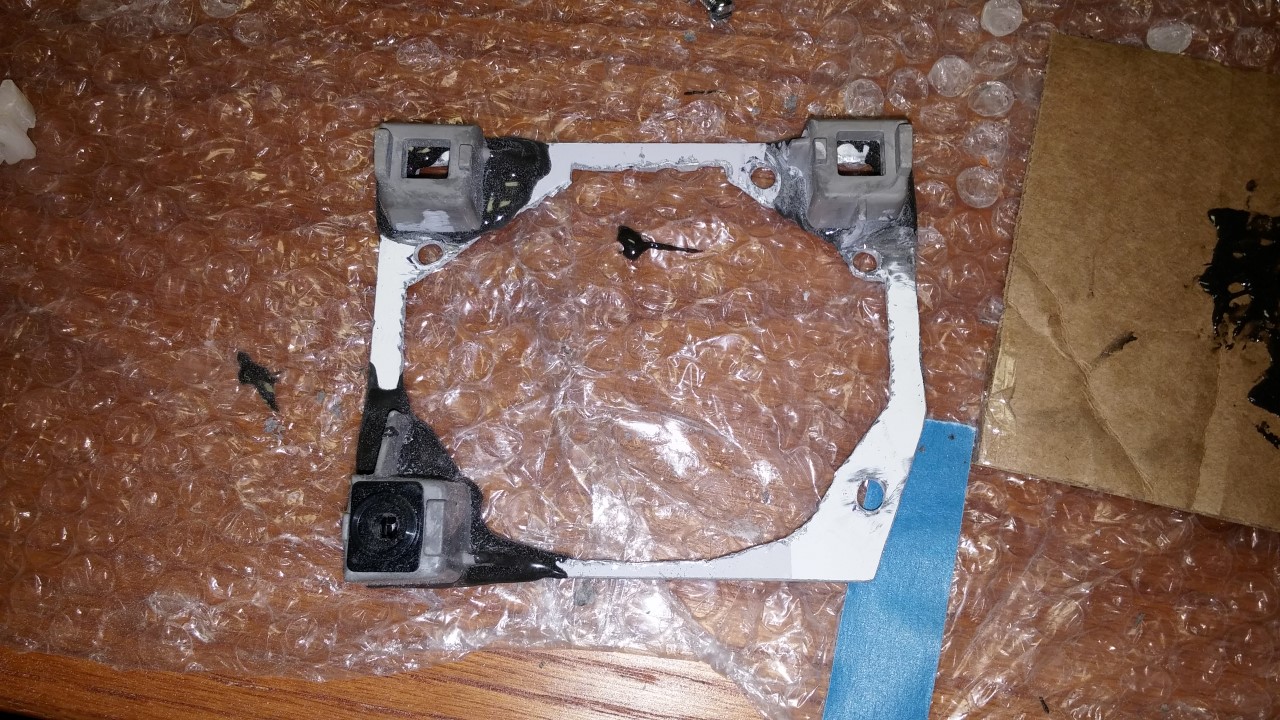 One done, one to go: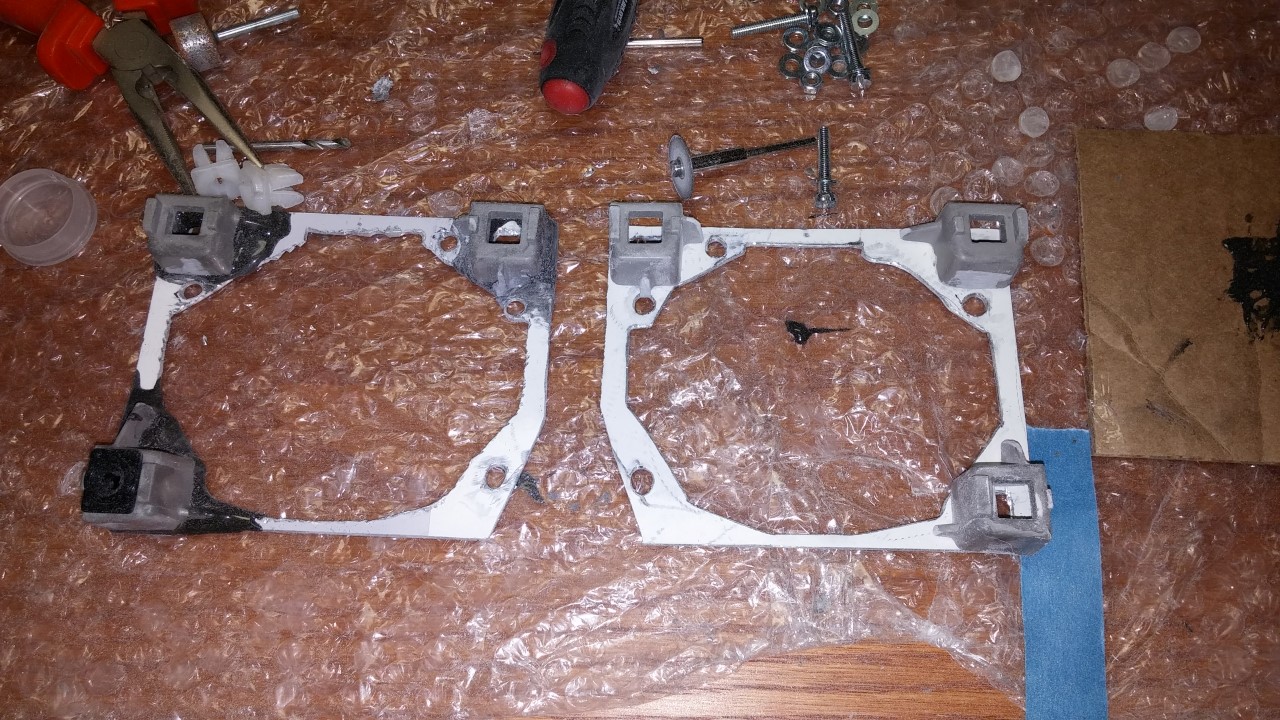 Mini D2S cutoff: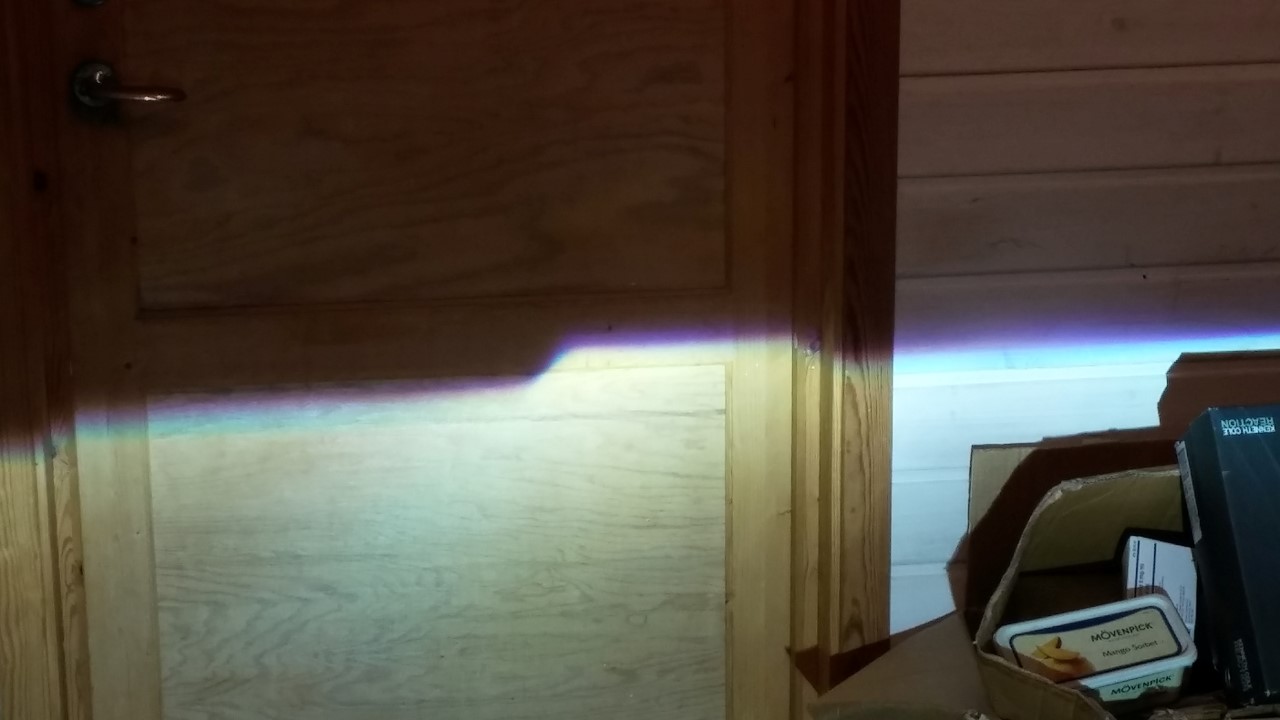 Telefonen min aktiverte av en eller annen grunn HDR-modus, så hvis de neste bildene ser rare ut er det derfor. Og at jeg ikke kan ta bilder.
Røyken er for å bedre illustrere lyslekkasjene, og er damp fra elsiggen min, ikke ekte røyk.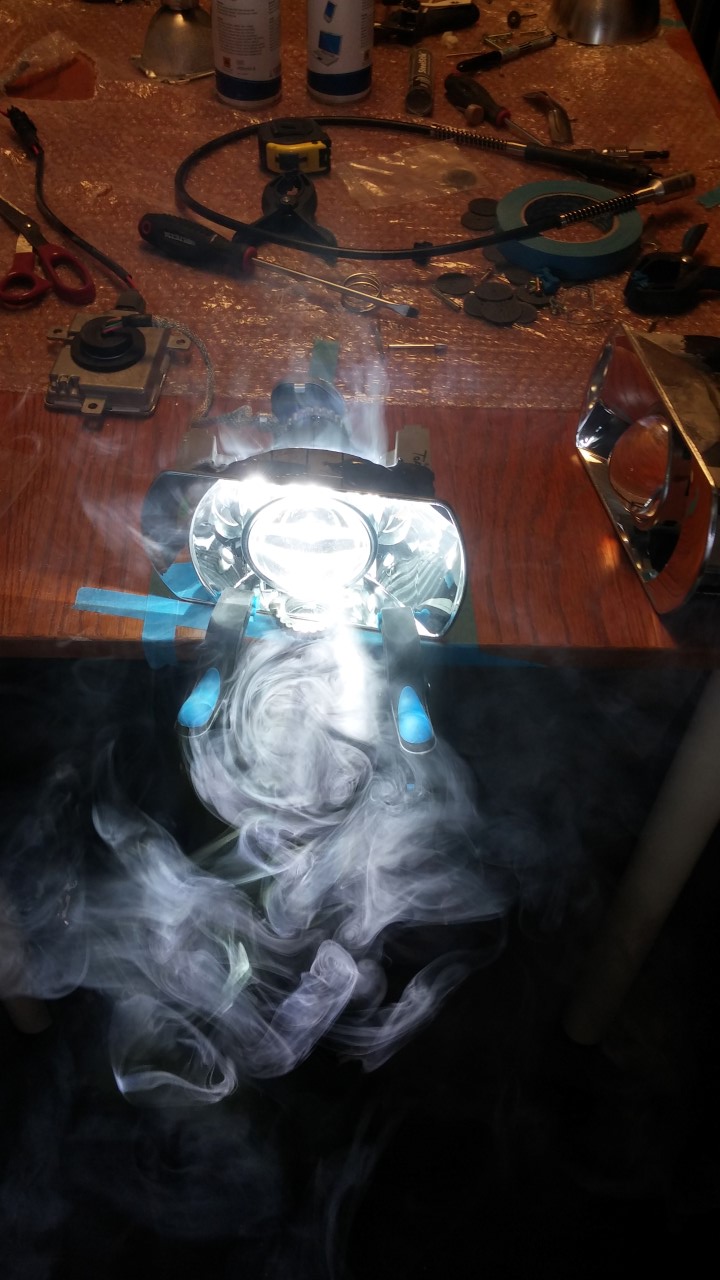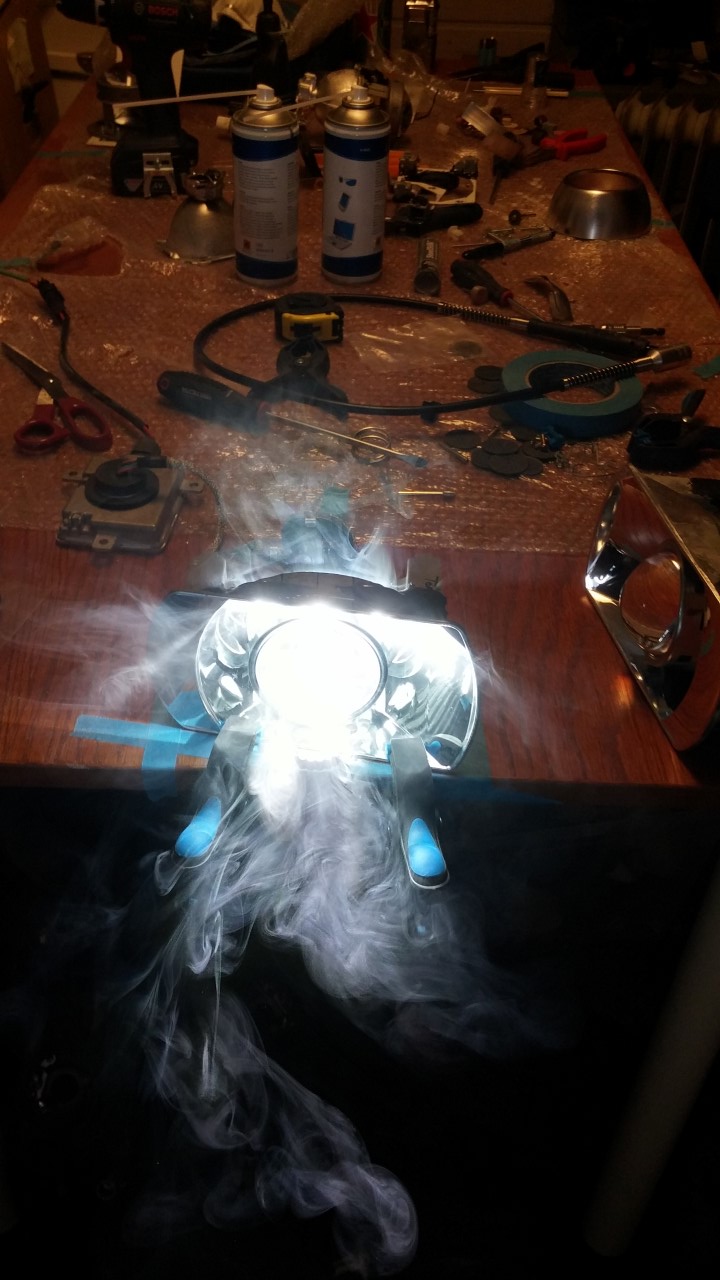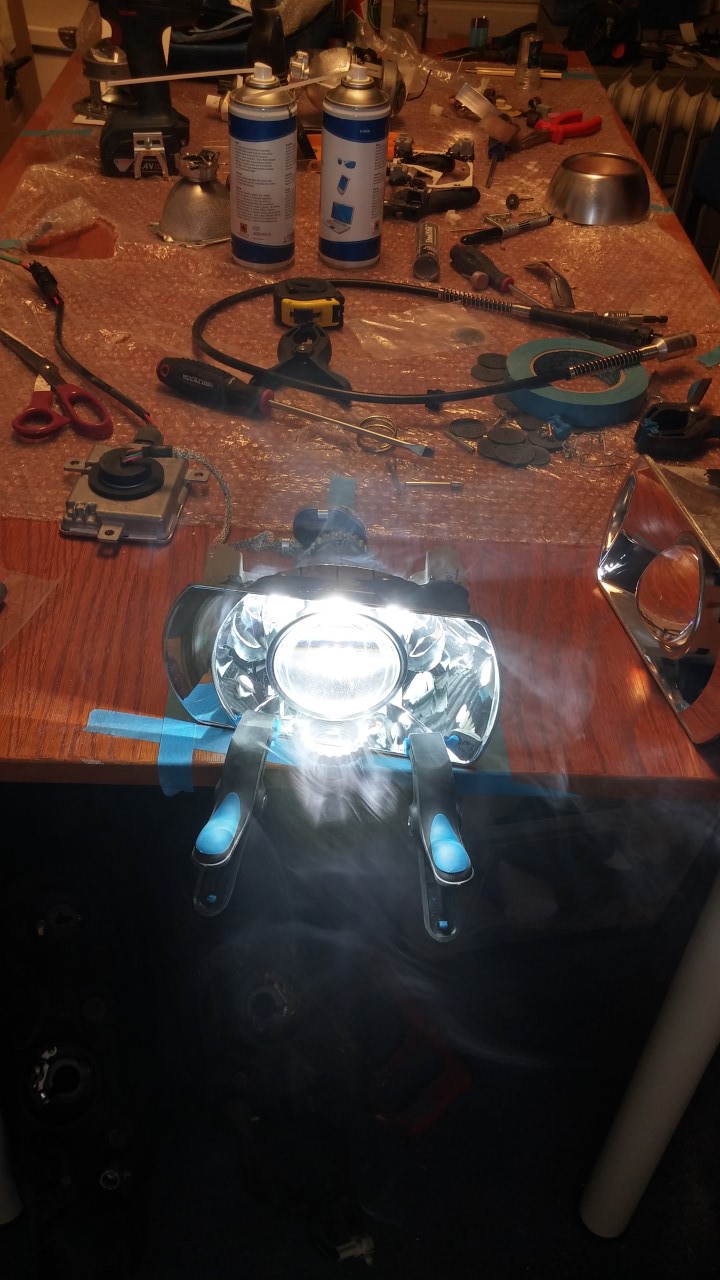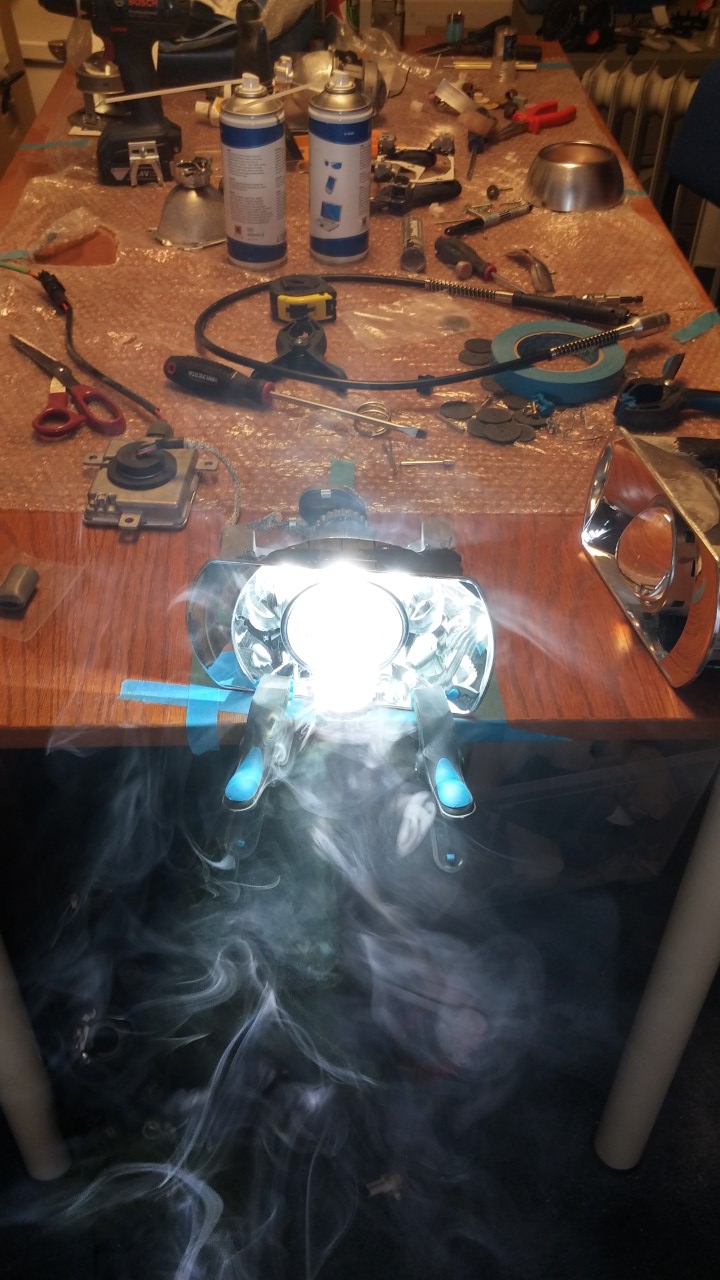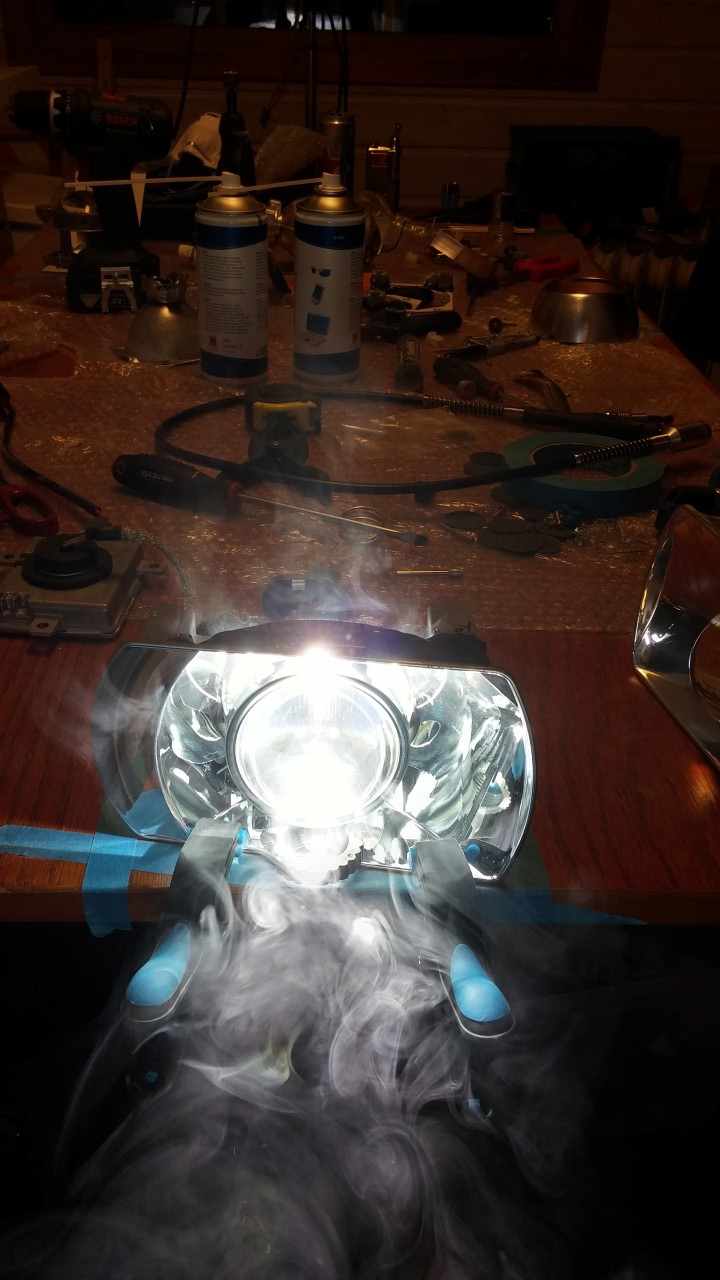 Så over på projektordekslene, også kjent som pyntedeksler eller bare shrouds...
Jeg hadde noen deksler i aluminium som var ganske fine så lenge de lå i esken sin, så jeg tenkte jeg skulle bruke dem. Klippet til et og tredde det på, og det så ganske bra ut, men var umulig å få til å sitte riktig, eller skikkelig fast.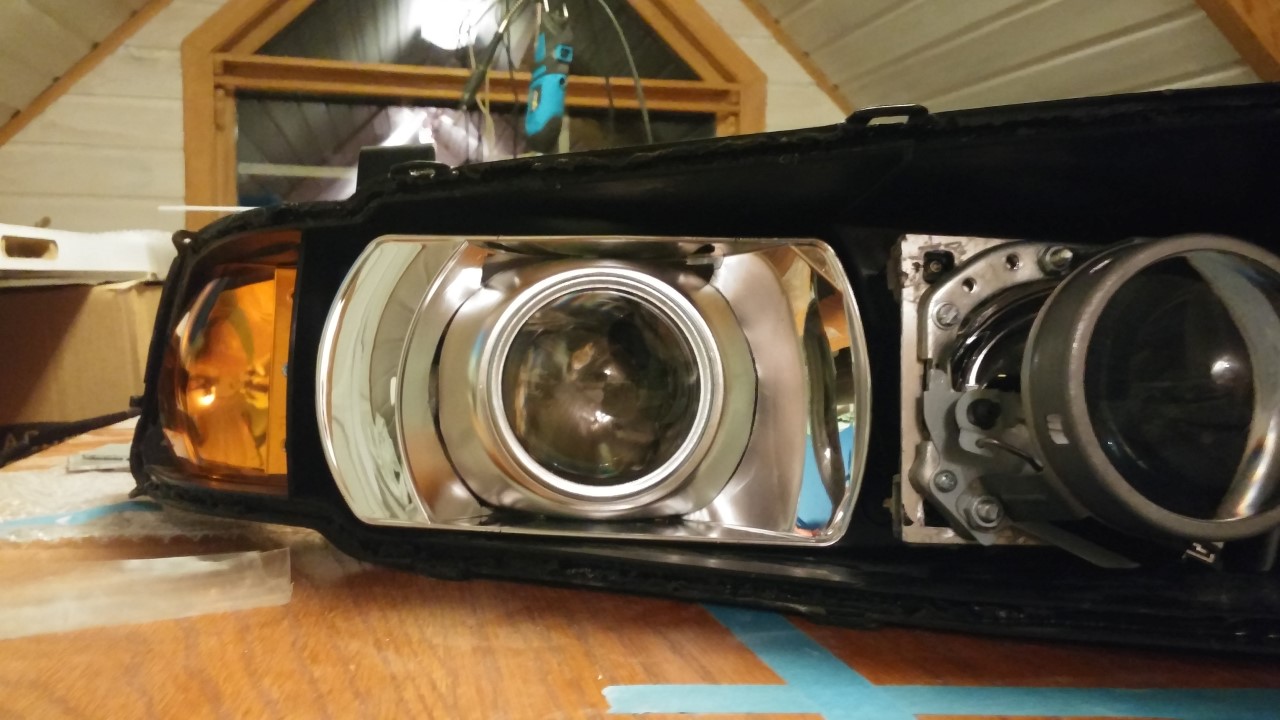 Fra litt avstand så det også ganske kjedelig ut...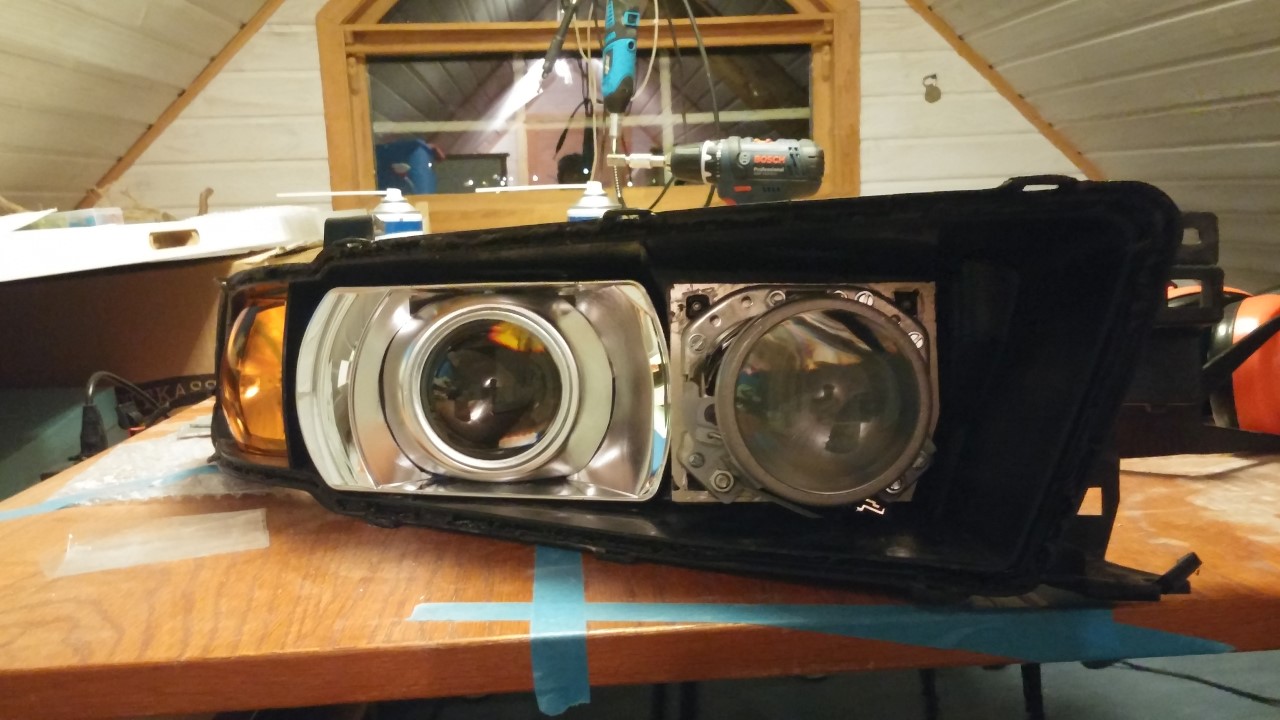 Mens jeg jobbet med passasjersiden, gav toppen av reflektoren etter og knakk - sannsynligvis etter at jeg ble litt ivrig med kuttingen i bakkant (som man kan se i hjørnene over projektoren), så toppen av reflektoren ble epoxylimt på og er nå det sterkeste punktet i hele lykten. Samtidig innså jeg at dette plutselig også inkluderte en lakkjobb. Simen ønsket å beholde reflektorene forkrommet, noe som nå ikke lenger var mulig å få til og samtidig få det til å se bra ut. Det var også masse riper og noen hakk i reflektorene, så de måtte bare lakkeres. Jeg fant en boks på Biltema med den lovende teksten "Silver Chrome" og blank kork, så jeg trodde i min enfoldighet at dette var kromspray. Den trengte ikke være supershiny for max output, men så lenge den minnet litt om OEM-look var det greit...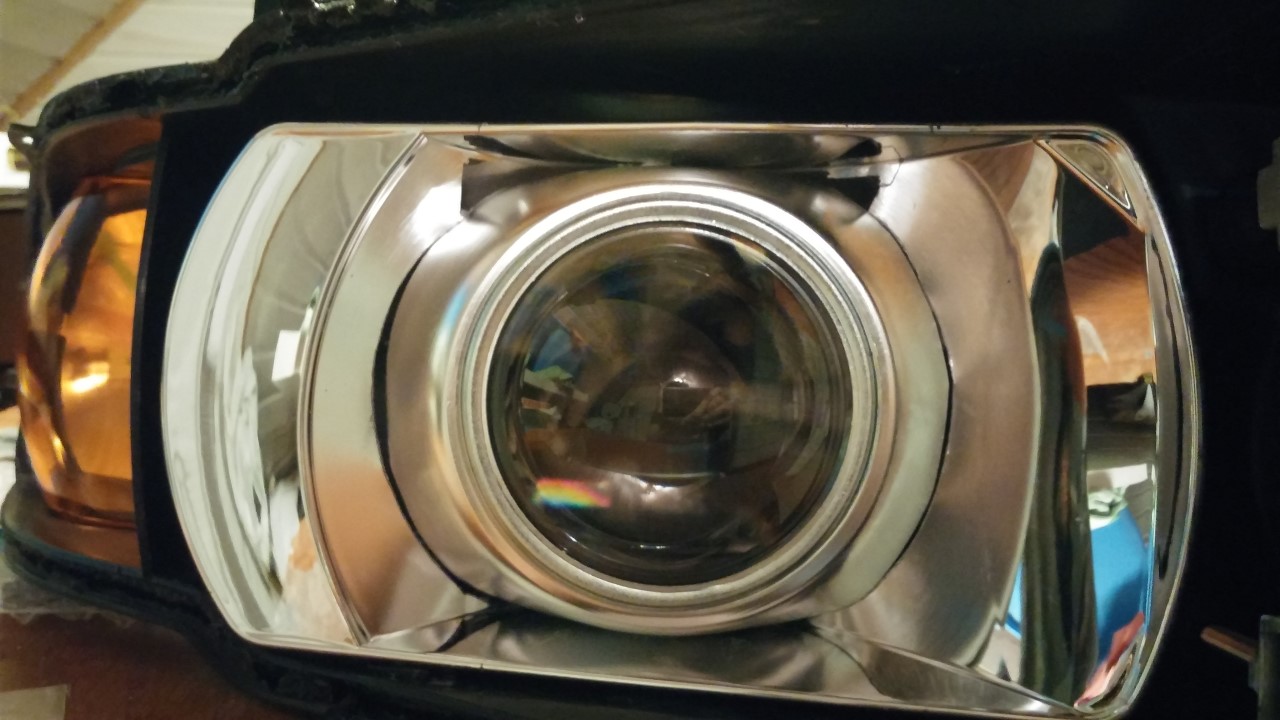 Lysløypen! Døren er ca 5 meter fra projektoren.
Lys av: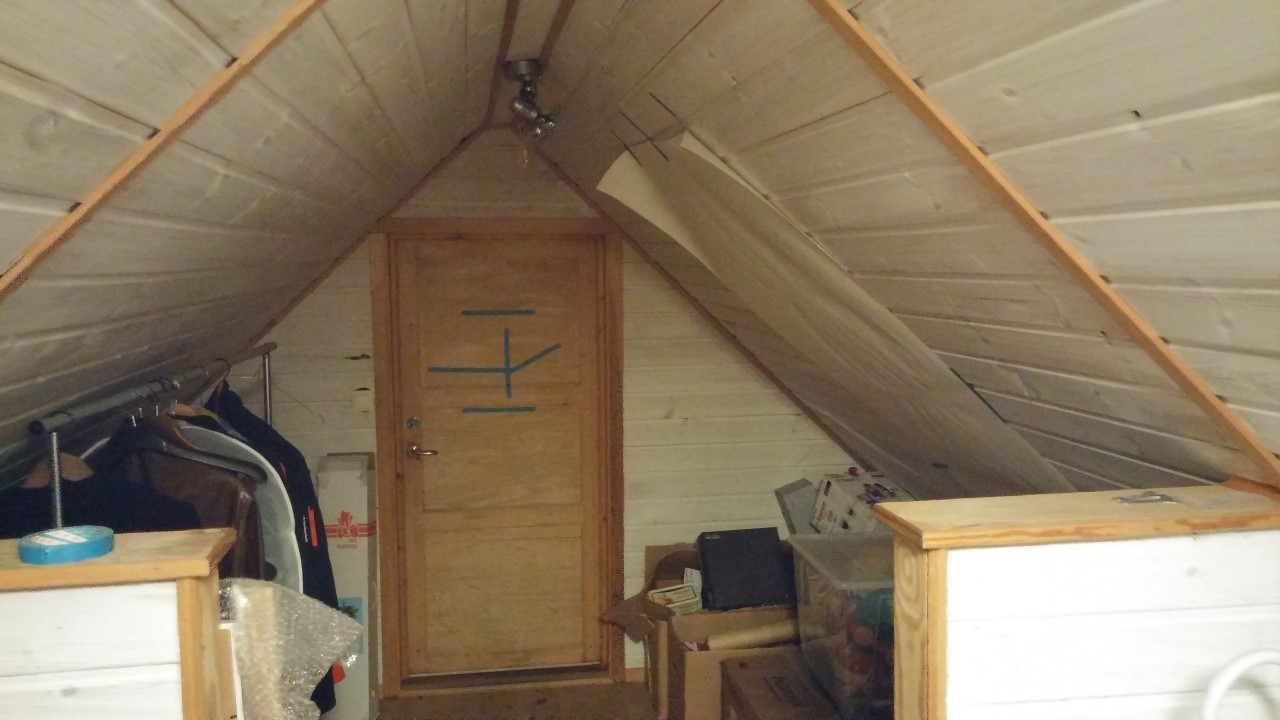 Nærlys på: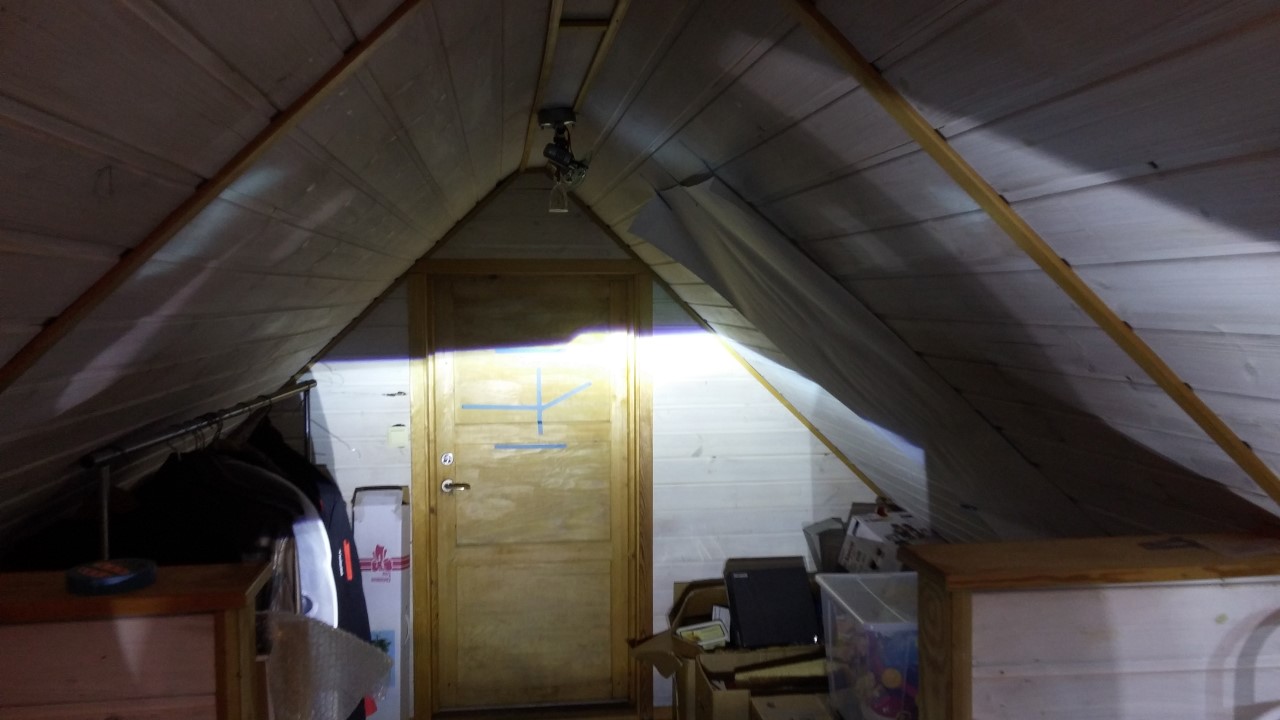 Rotasjonsproblemer...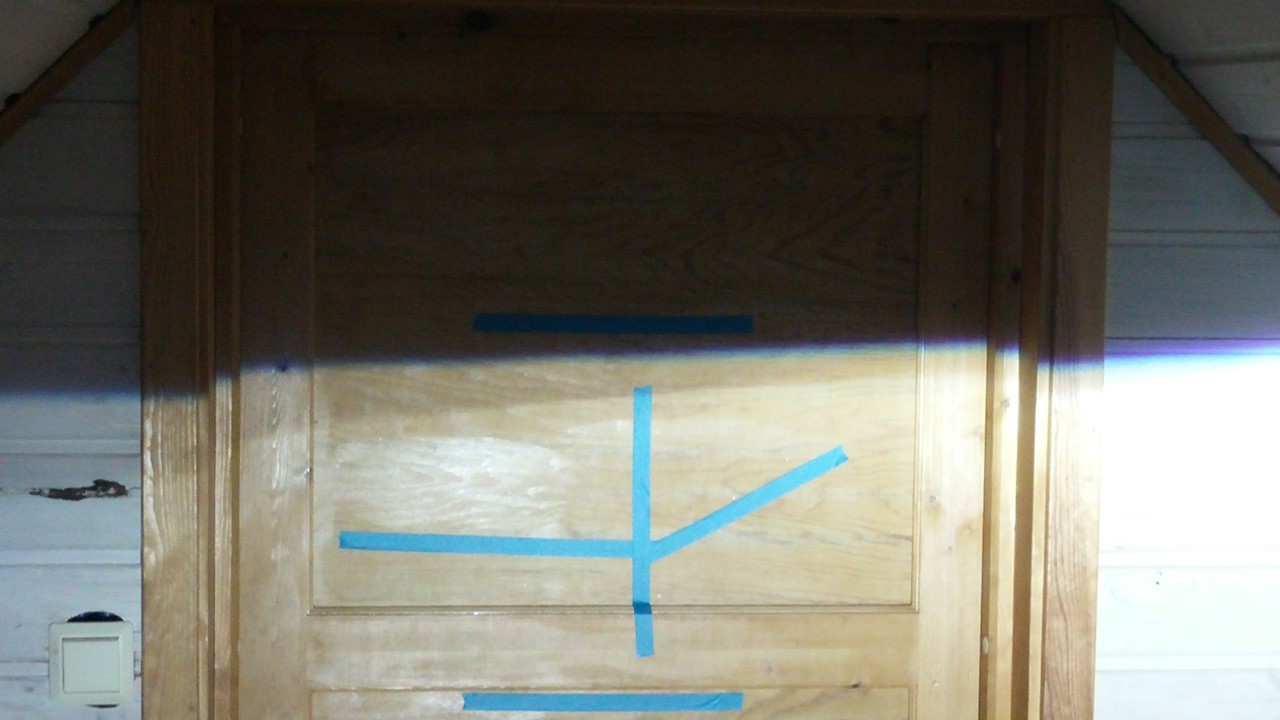 Mini D2S langlys: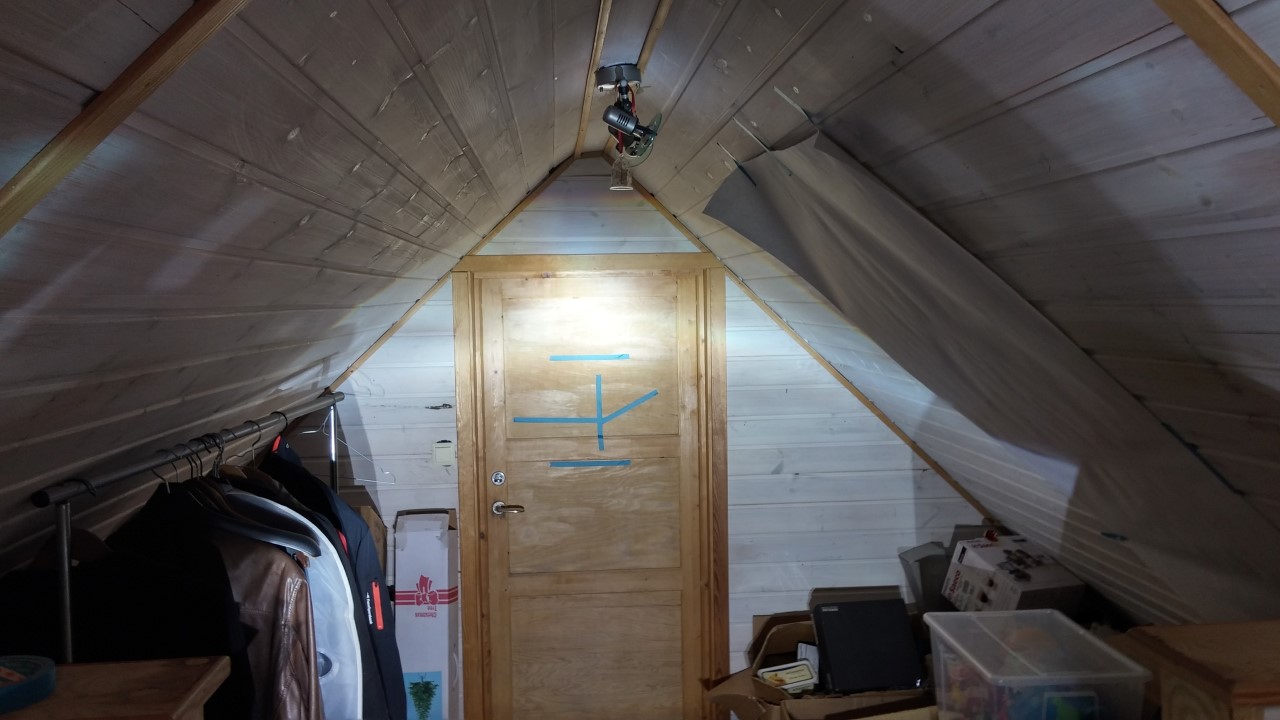 Ny dag, nytt deksel!
Siden jeg brukte Iris-deksler på den forrige Galant-retroen visste jeg hvordan jeg effektivt skulle kutte dem til for å få dem til å passe, så jeg dro til med fersk kunnskap. Denne gangen satt dog Mini D2S-projektoren litt lenger bak i reflektoren, så jeg trengte ikke kutte av toppen og bunnen, siden hele stasen gikk klar av lykteglassdekselet med 3-4mm til overs for justeringer.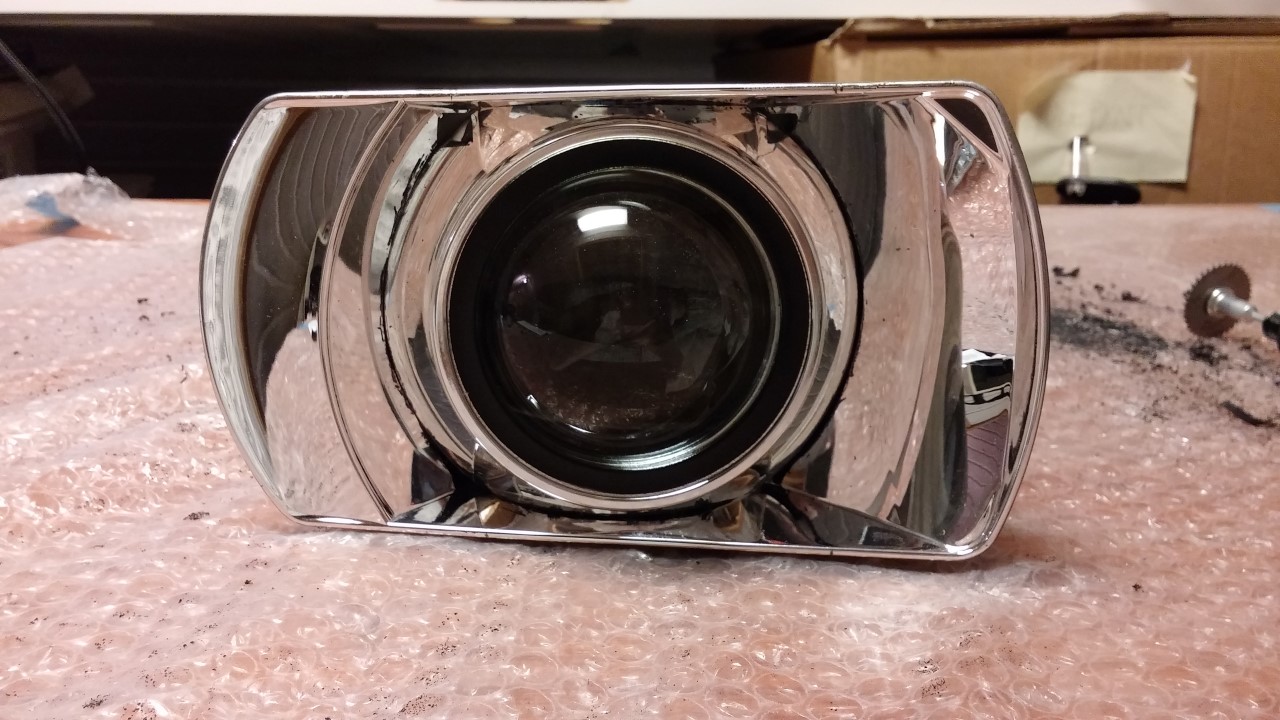 Passasjerside med deksler: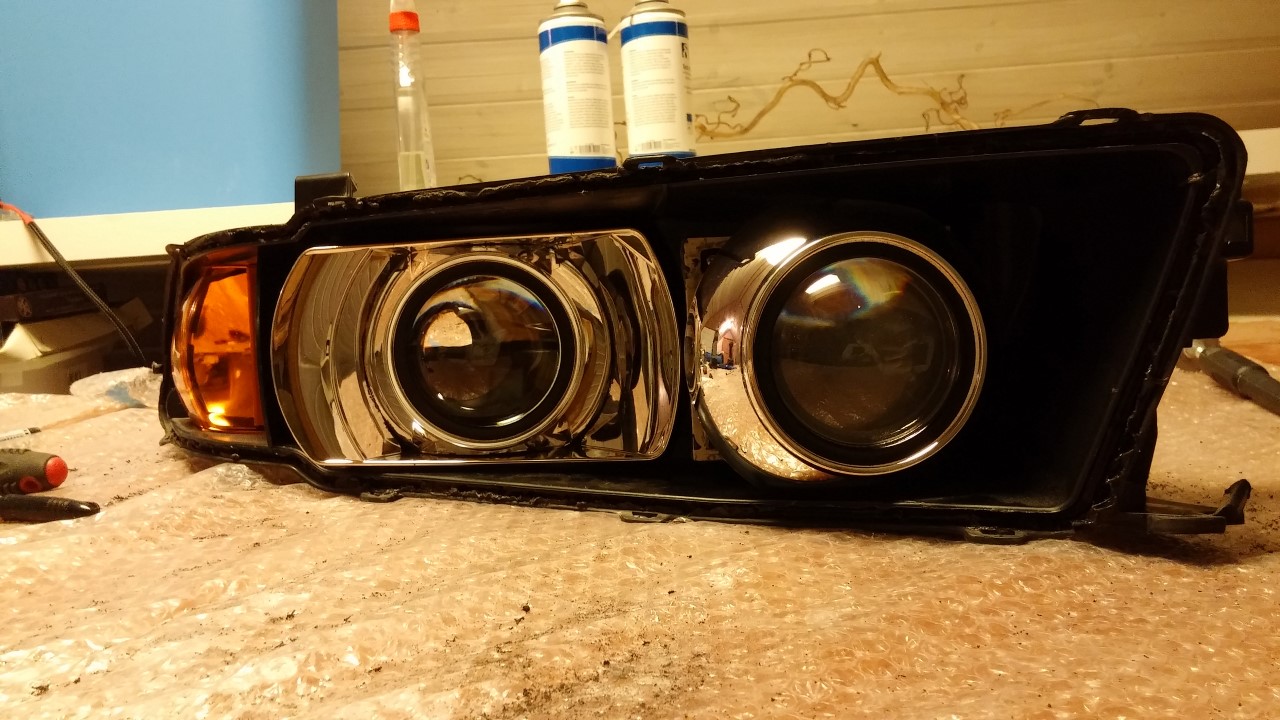 Og en gang til, med blitz: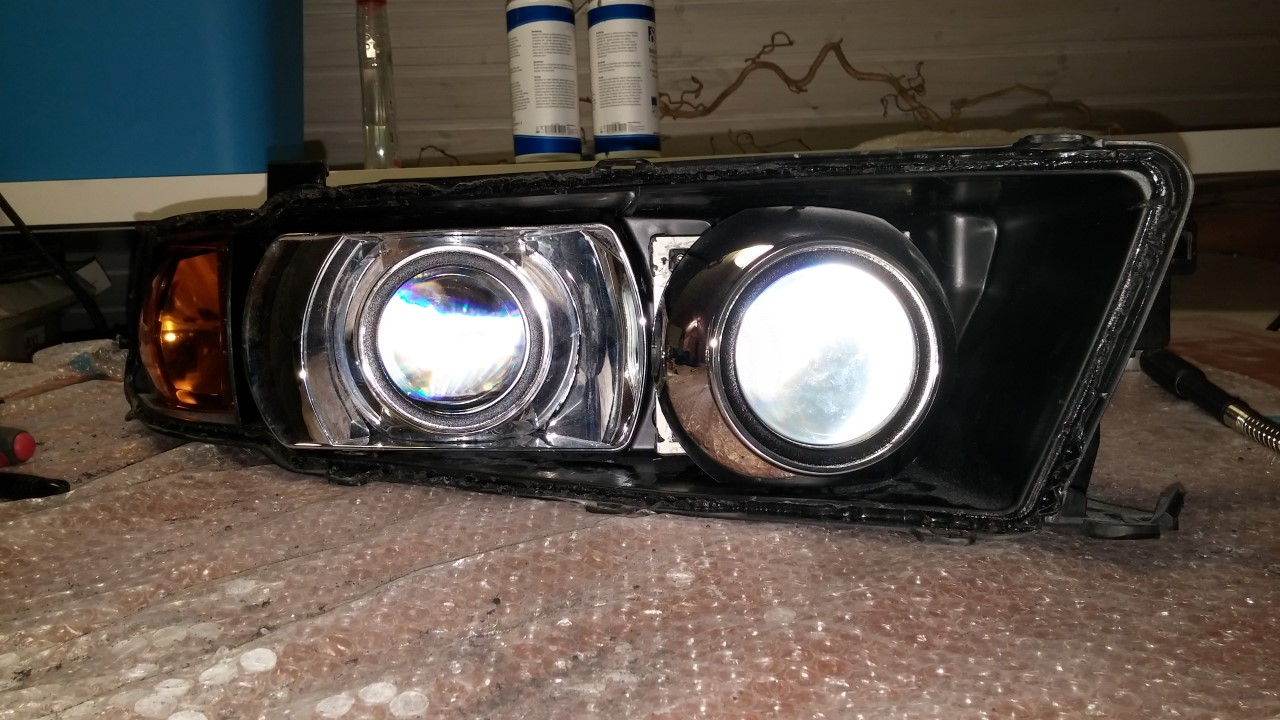 Simen ønsket parklys, så jeg testet litt med en flushmount LED: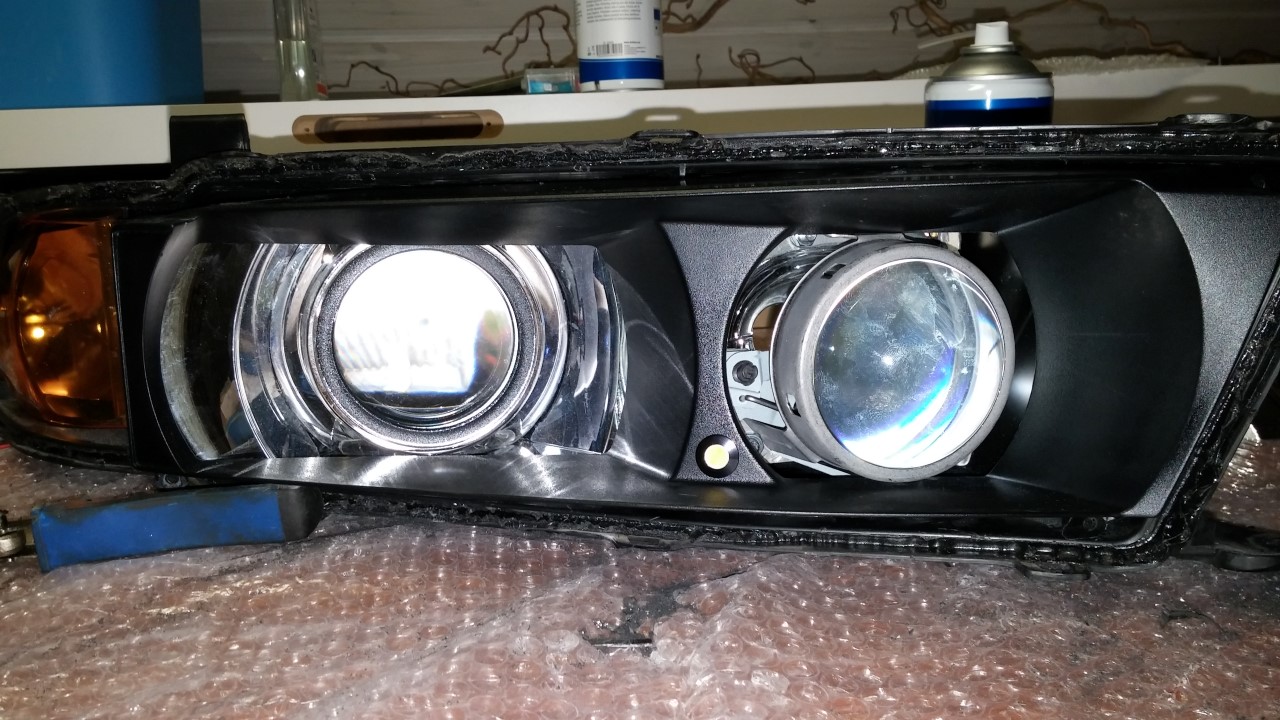 Uten blitz: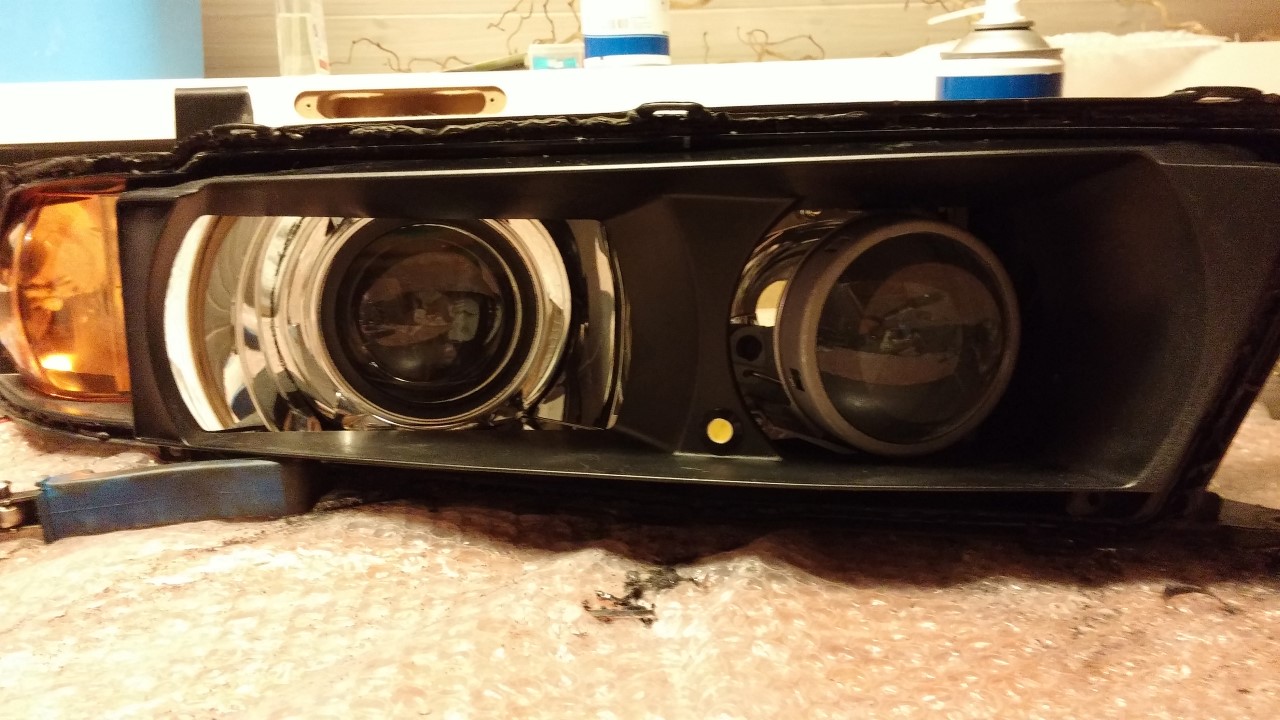 LED på: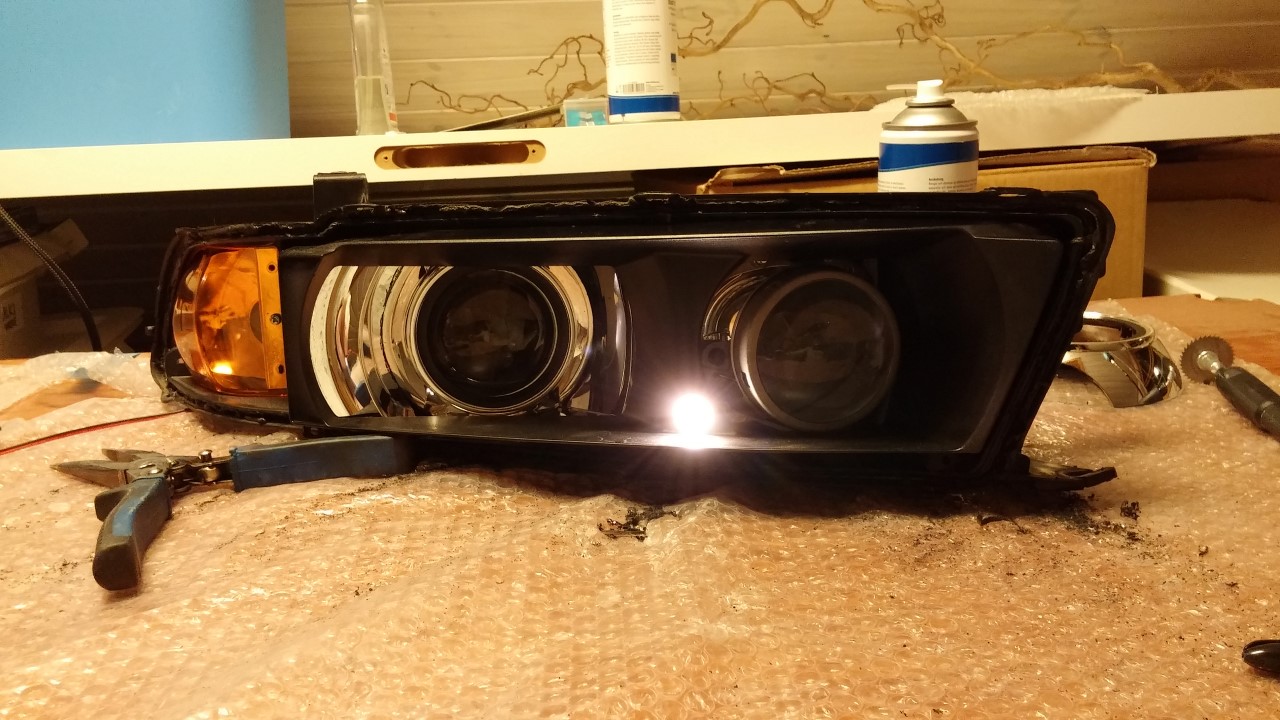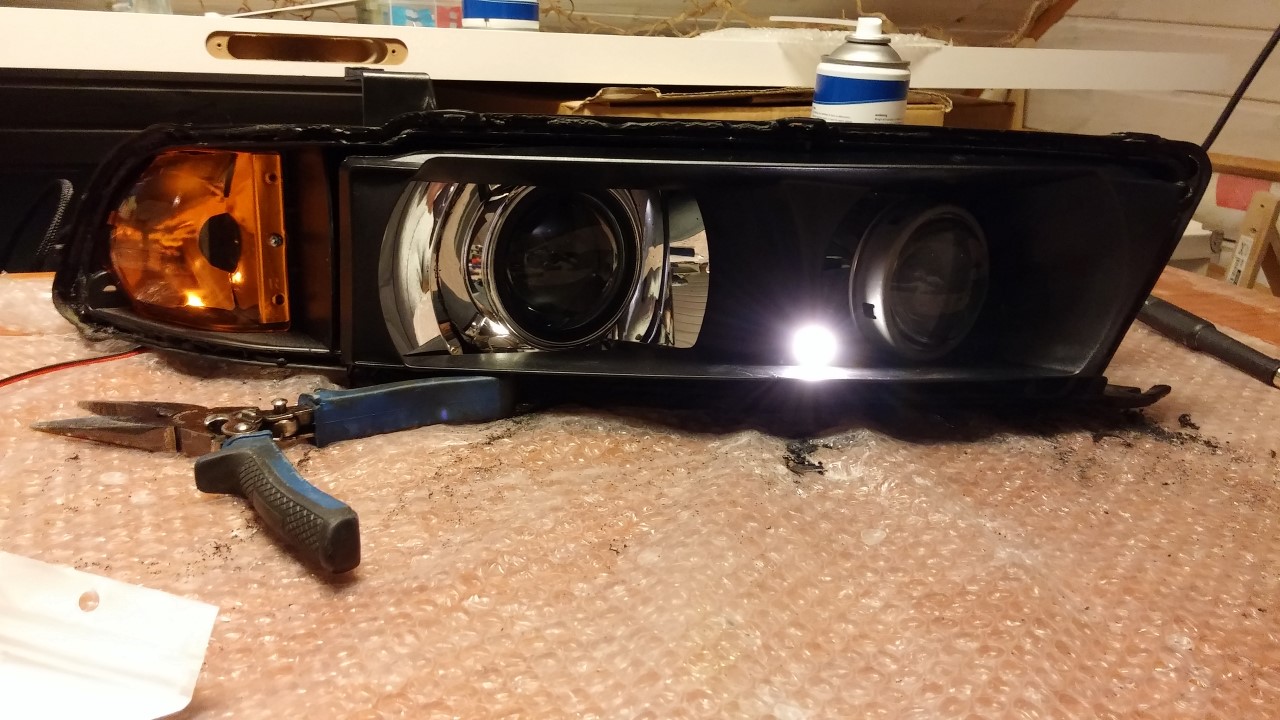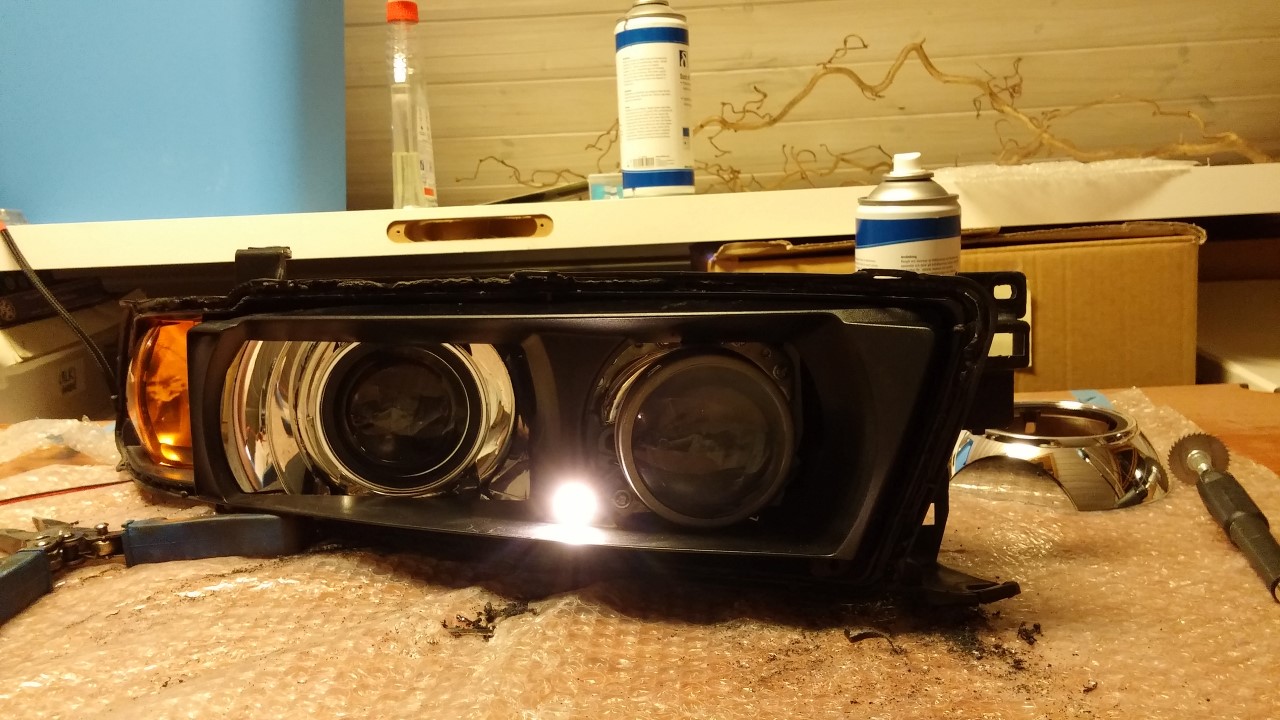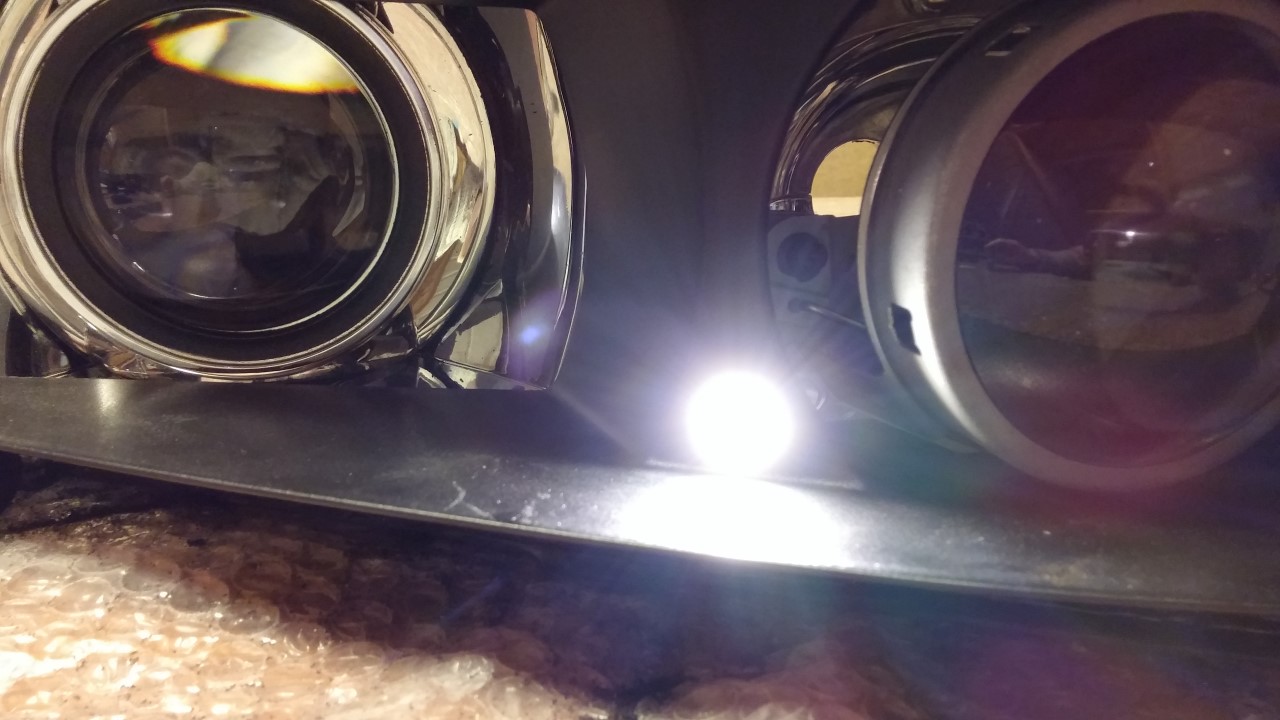 Closeup: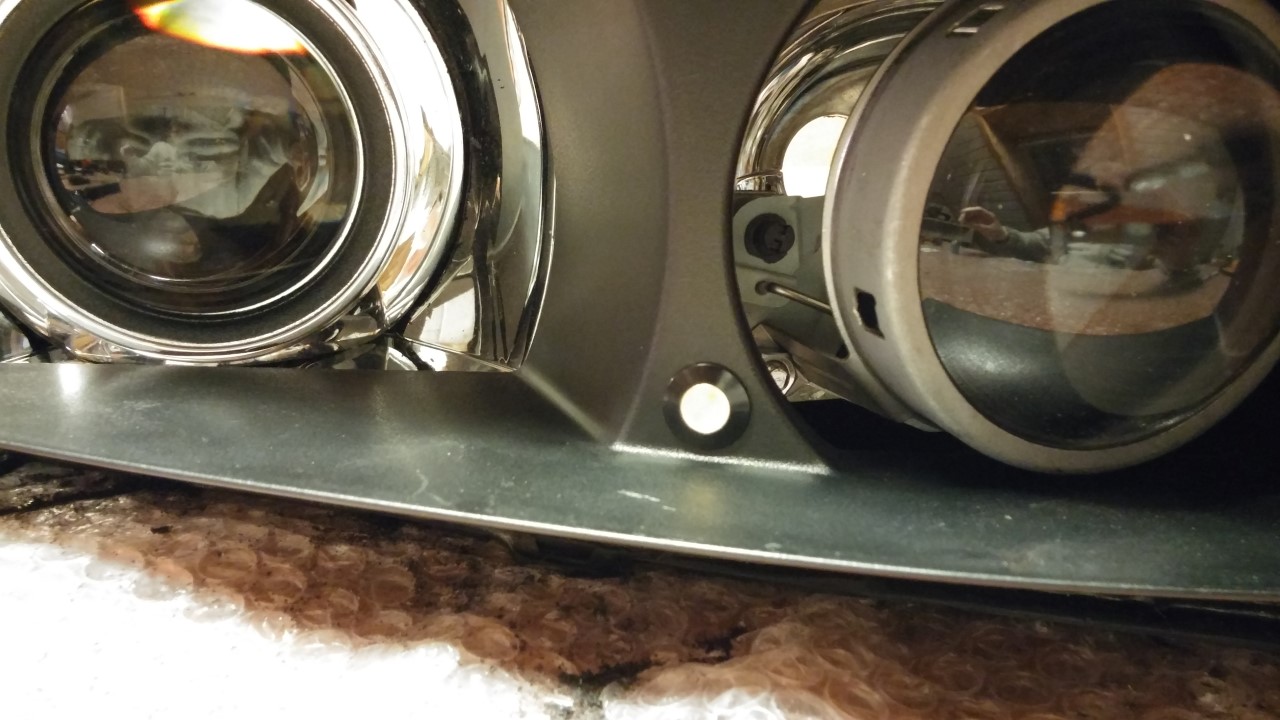 Med lykteglass og tilhørende deksel (det andre var en test):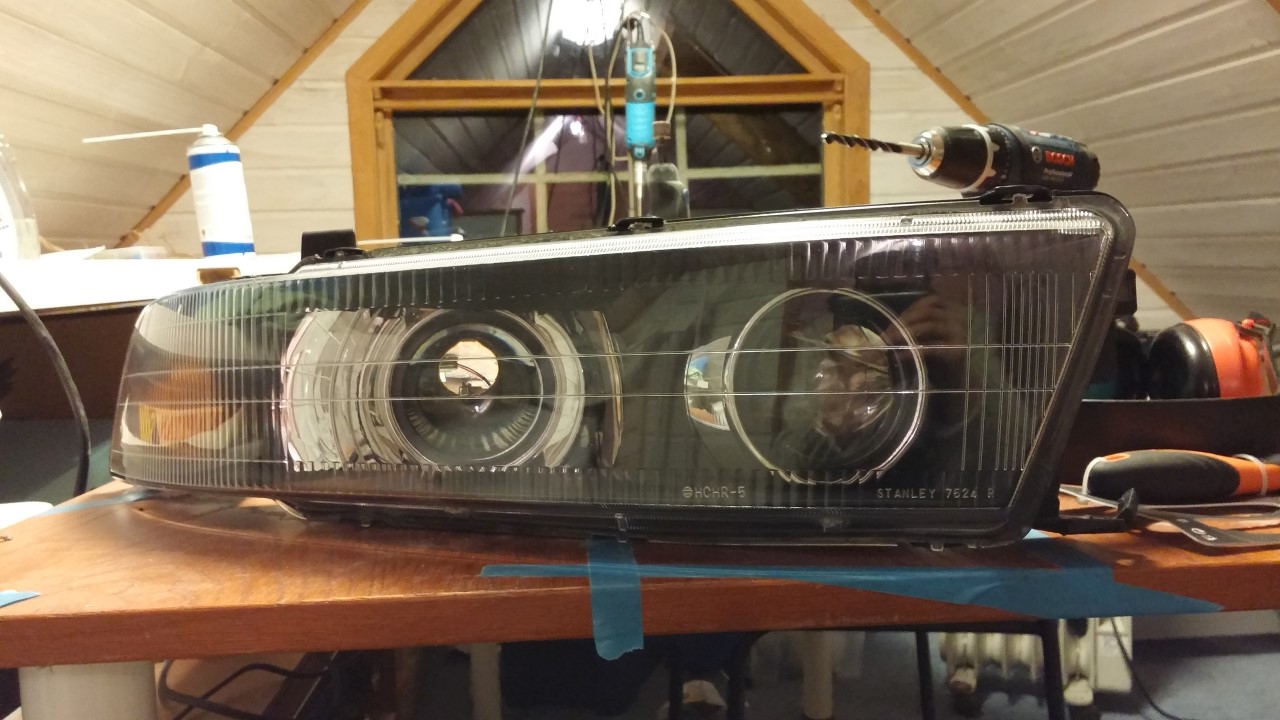 Grunnene til at dette plutselig inkluderte en lakkjobb: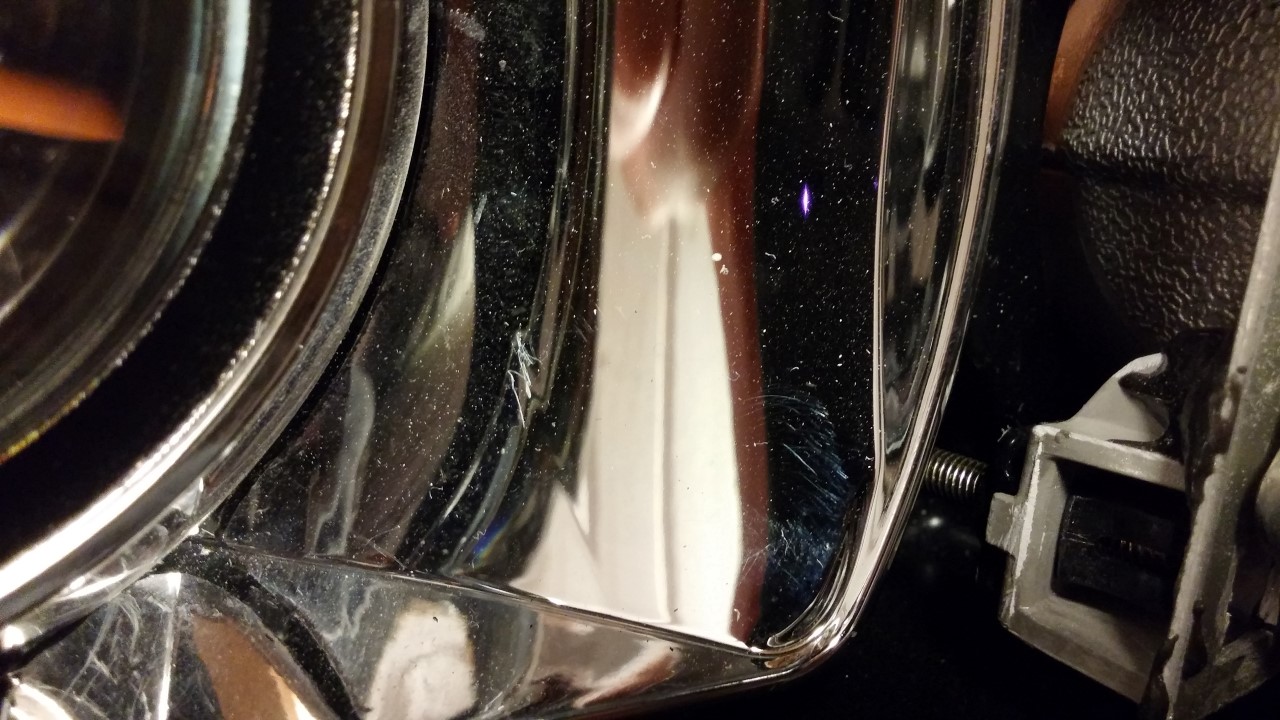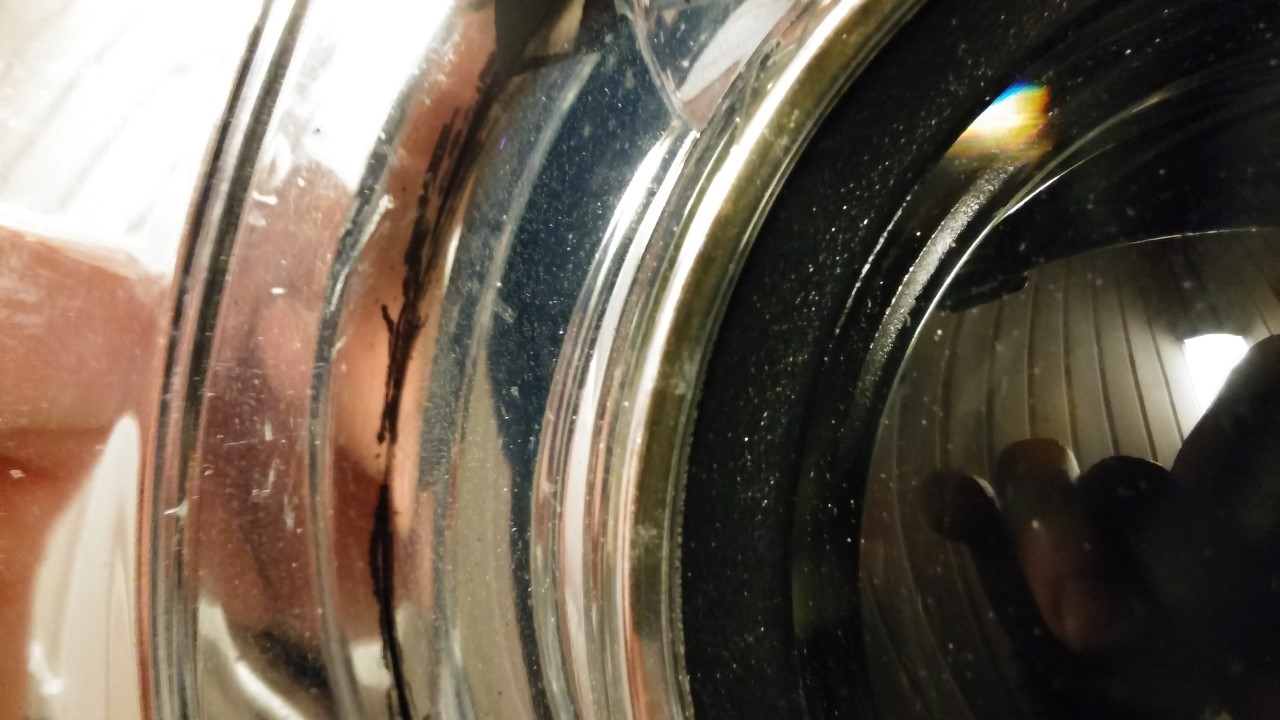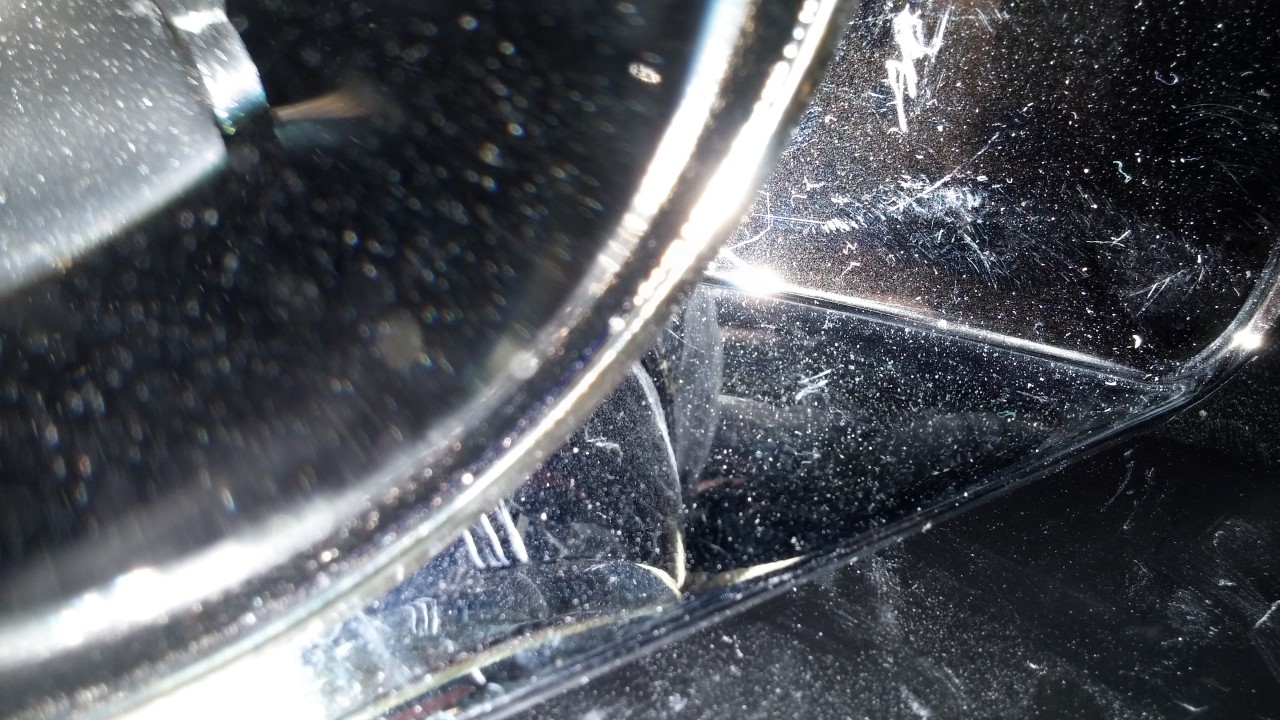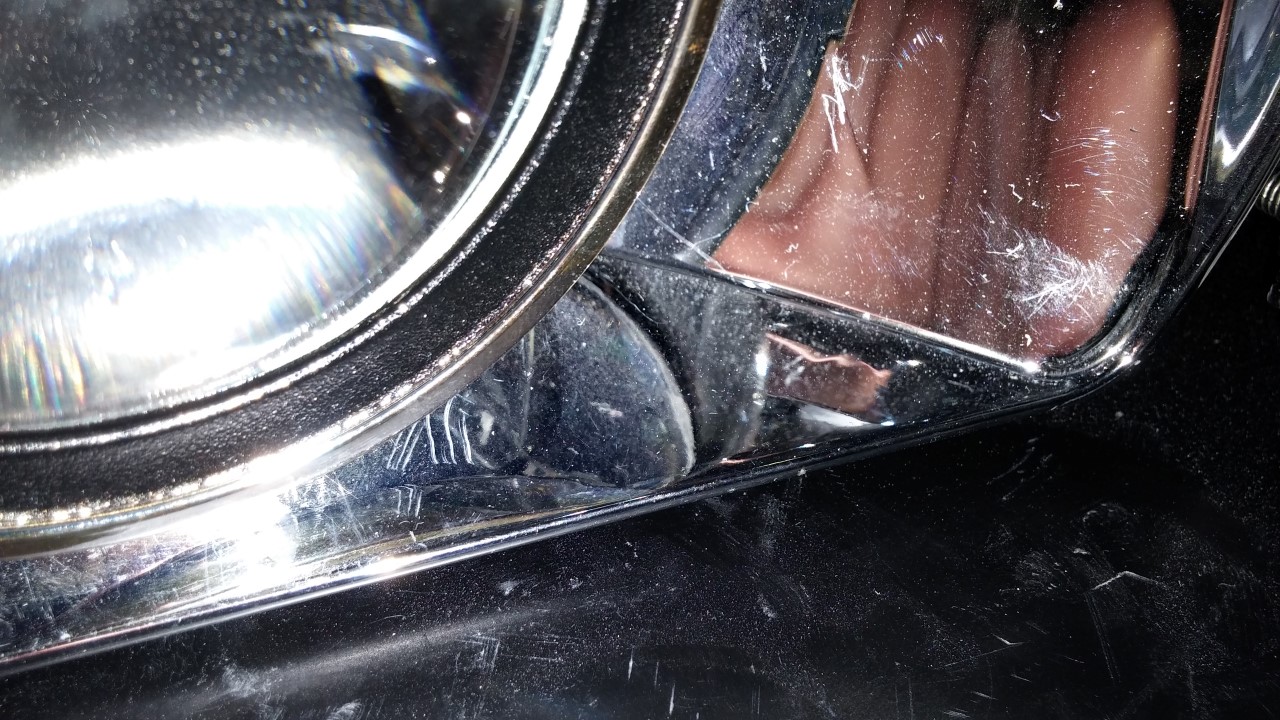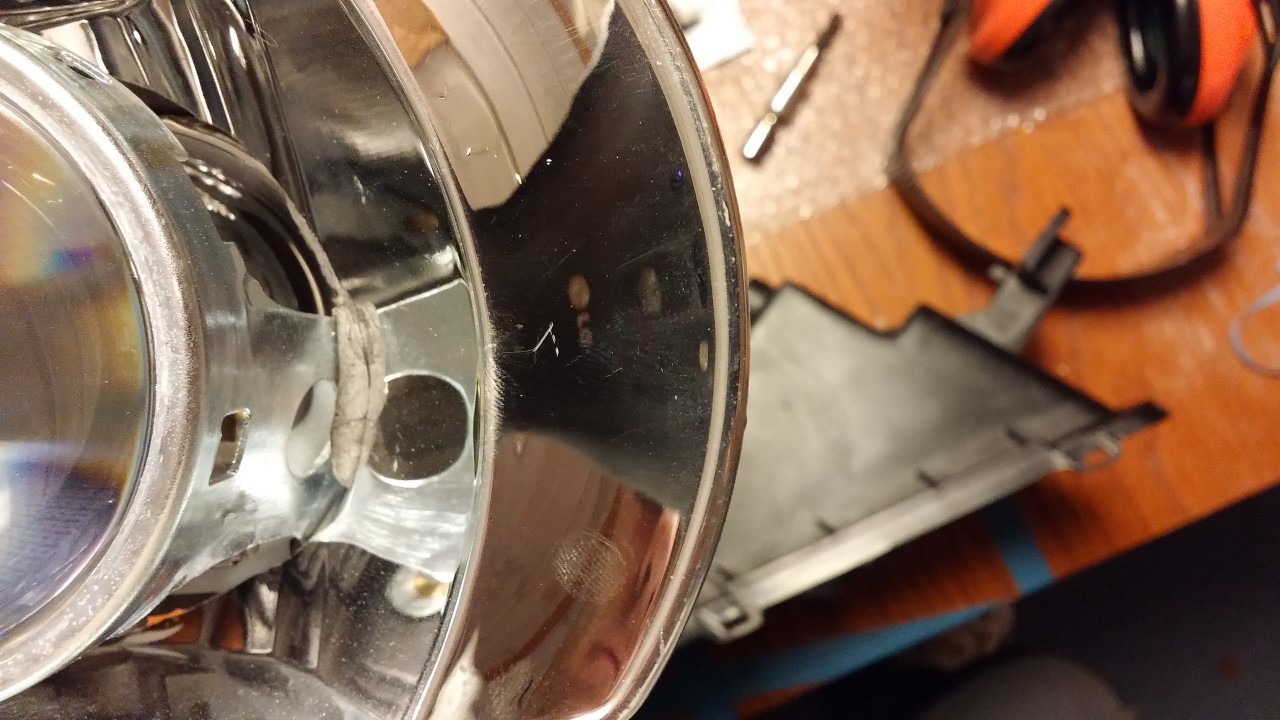 Siden jeg aldri tenker på å lakkere
før
jeg monterer projektorene ender jeg alltid opp med sånne trivelige maskeringsjobber... tok meg en drøy time å få dette skikkelig sånn at jeg skulle unngå å få lakk inn i projektoren: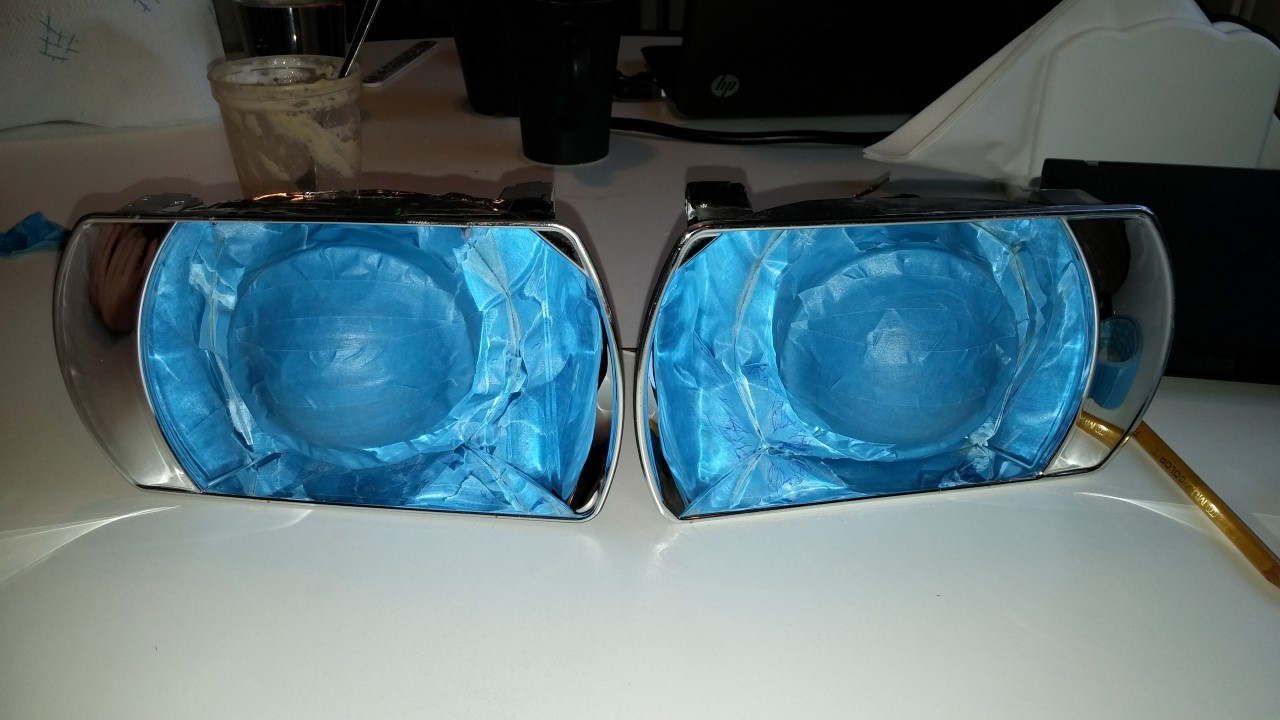 One-piece lykteglassdeksler med huller for LEDs: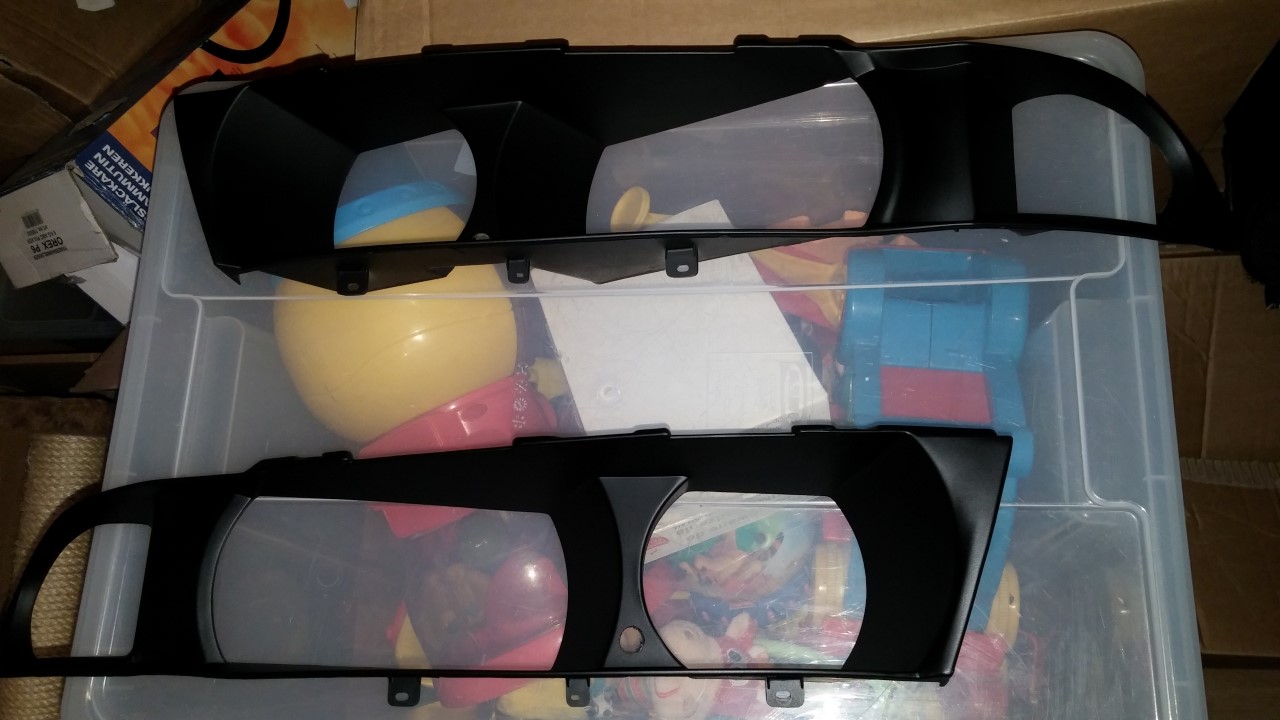 Ikke verdens peneste hull, men jeg trengte et 10mm hull og hadde bare et 8mm bor... De noe røffe kantene ble uansett skjult av LEDlysene.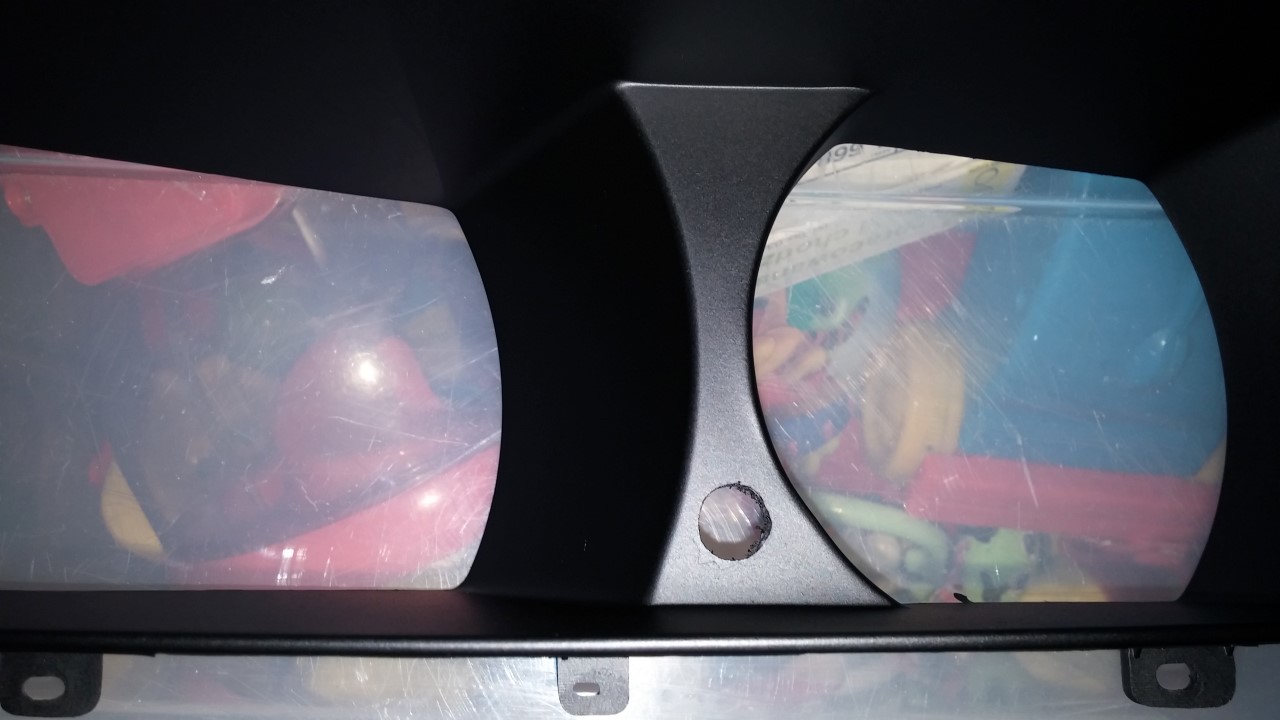 Mattet ned og klar for lakk: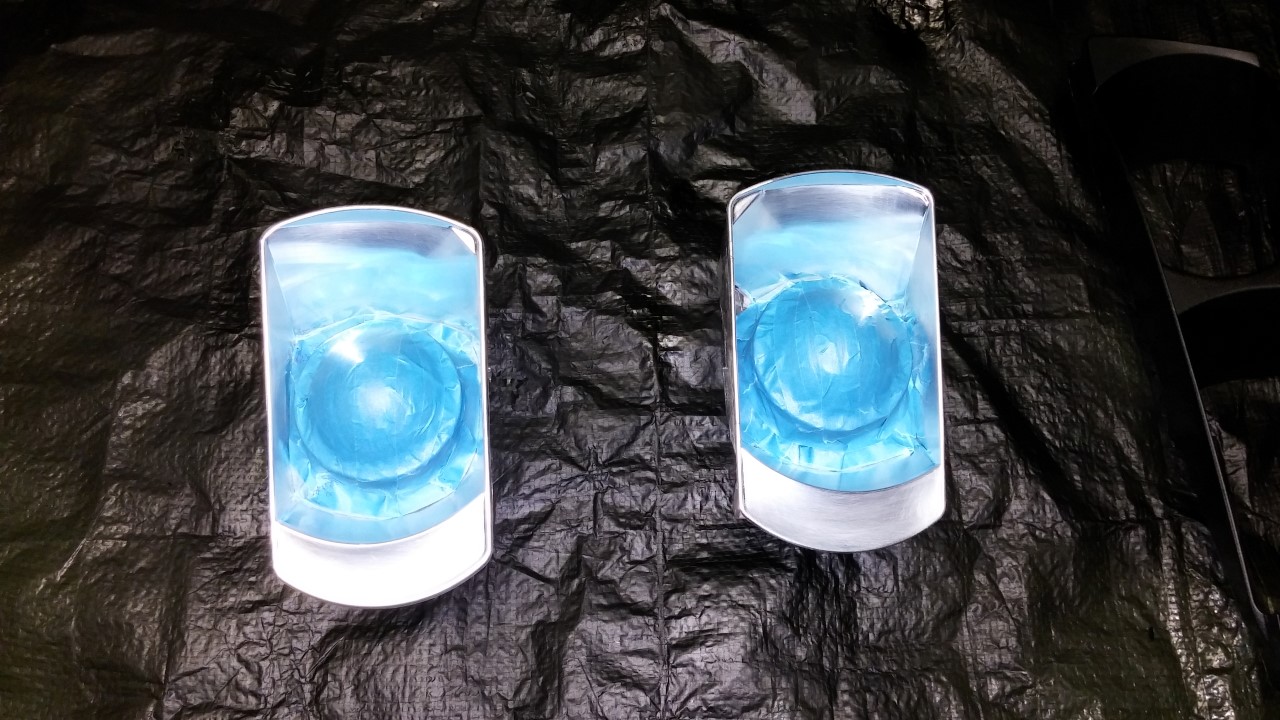 Etter lakk: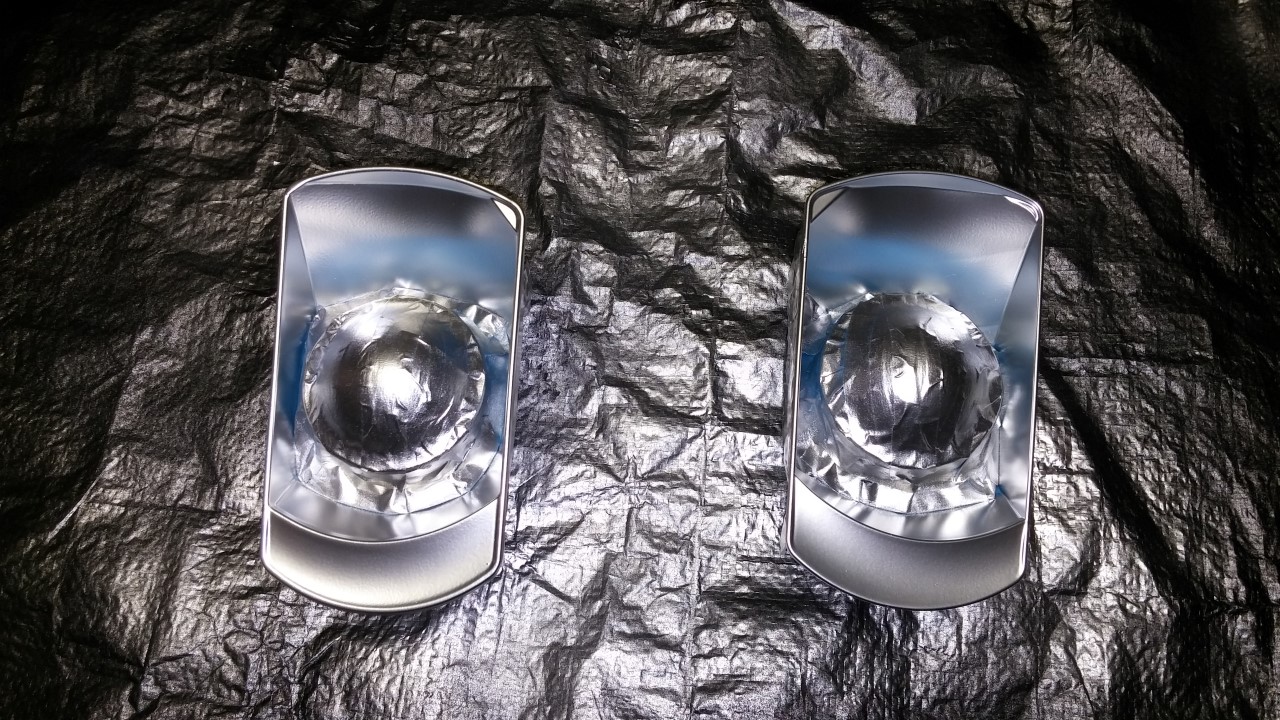 Ferdig!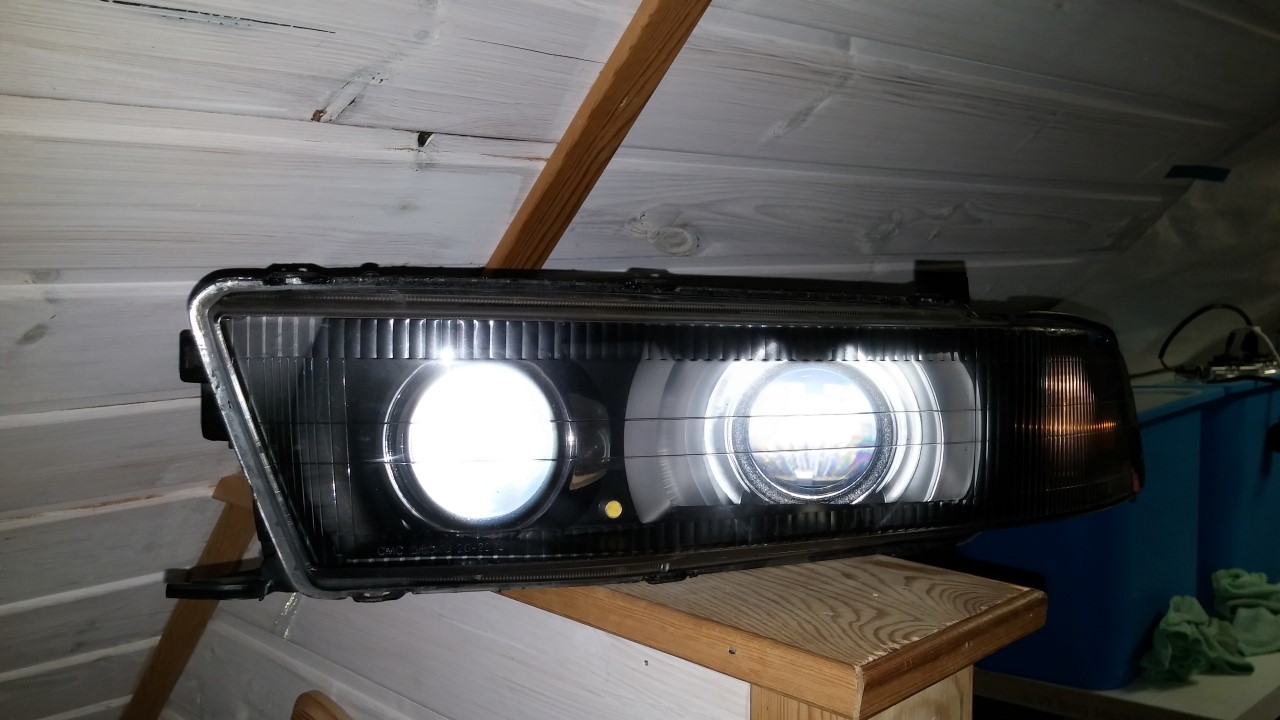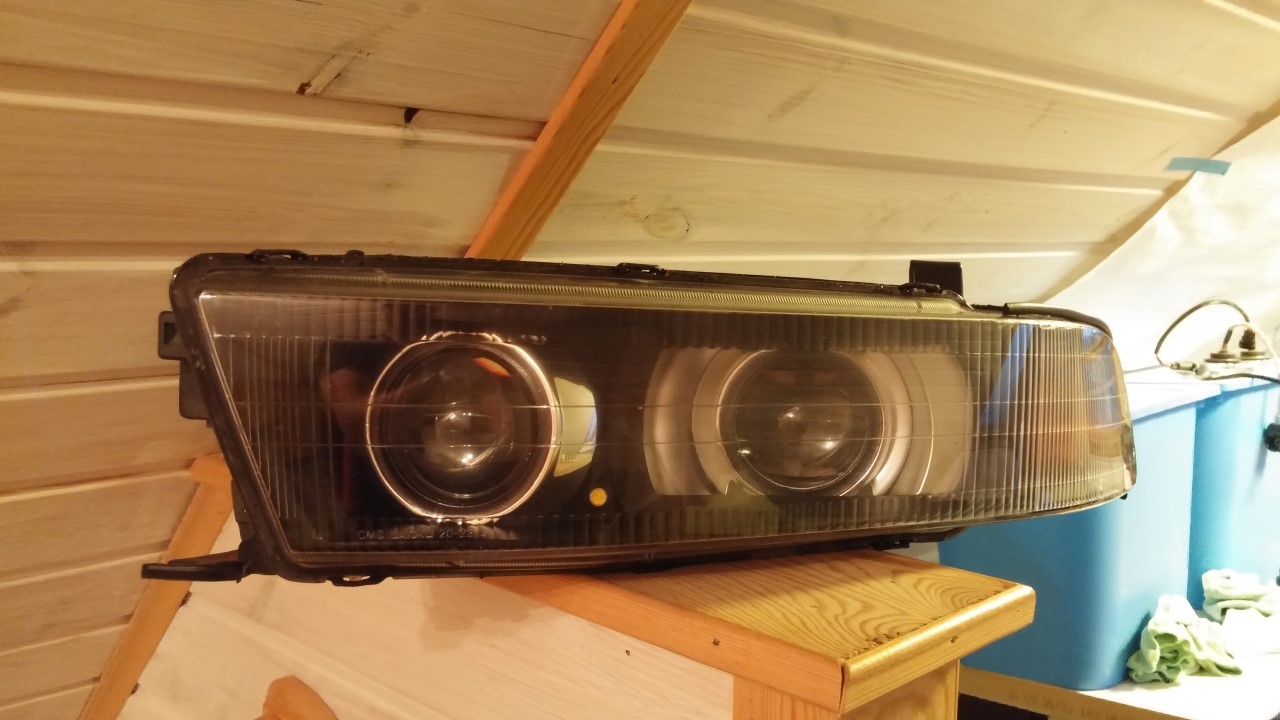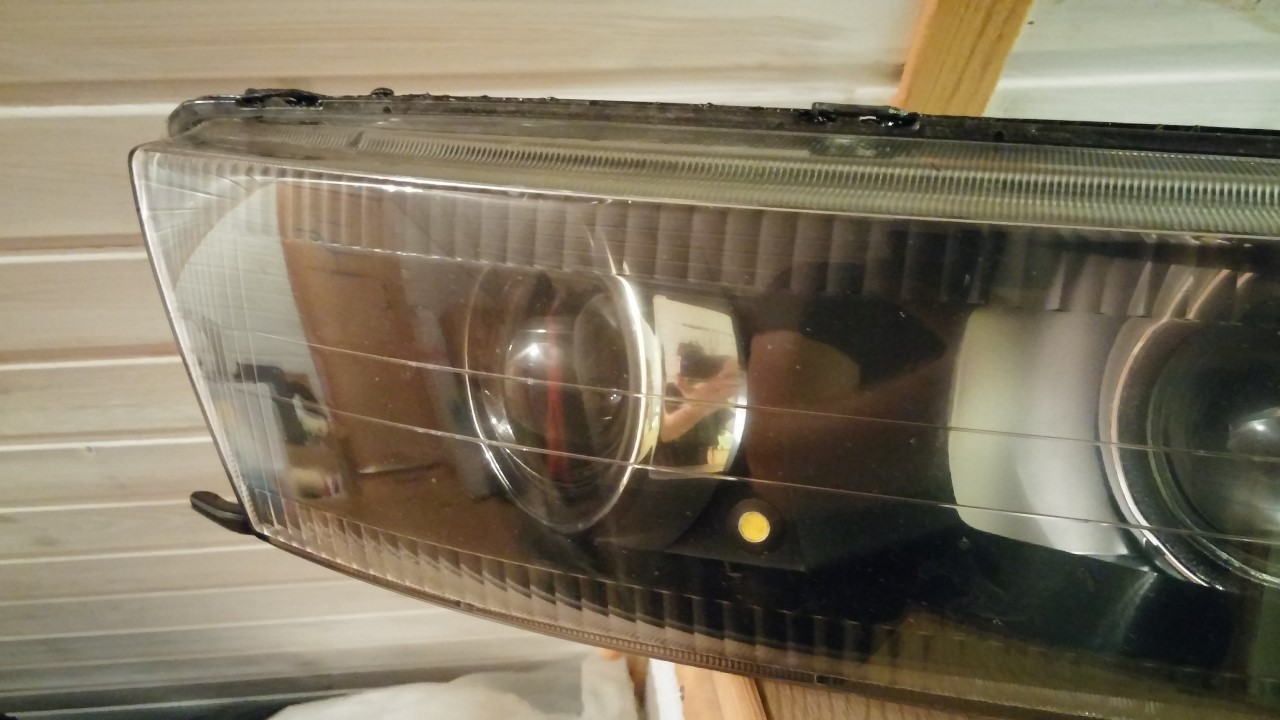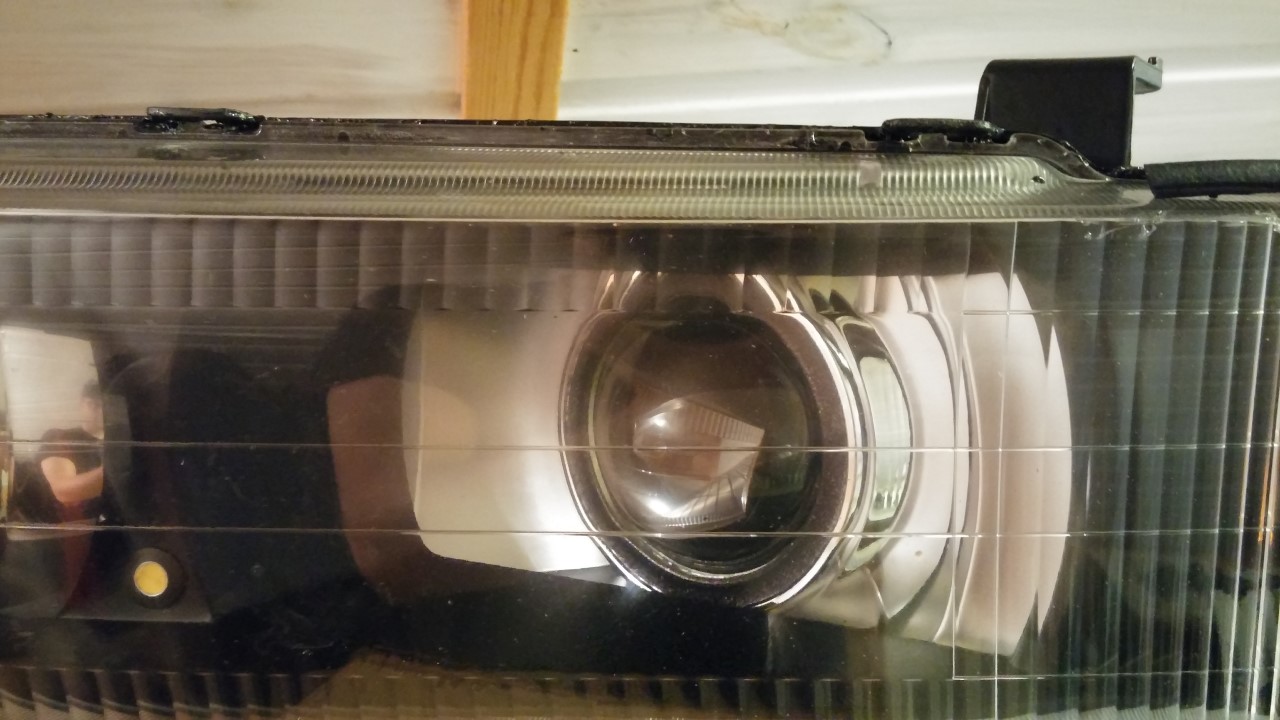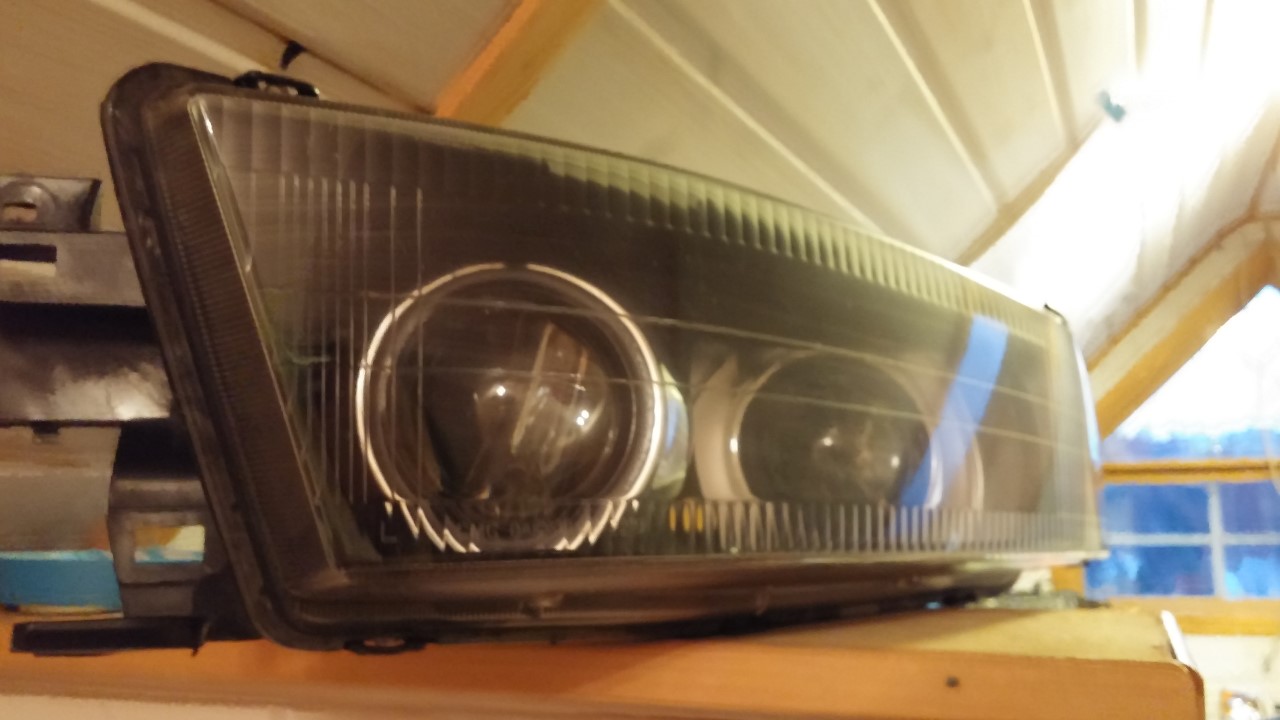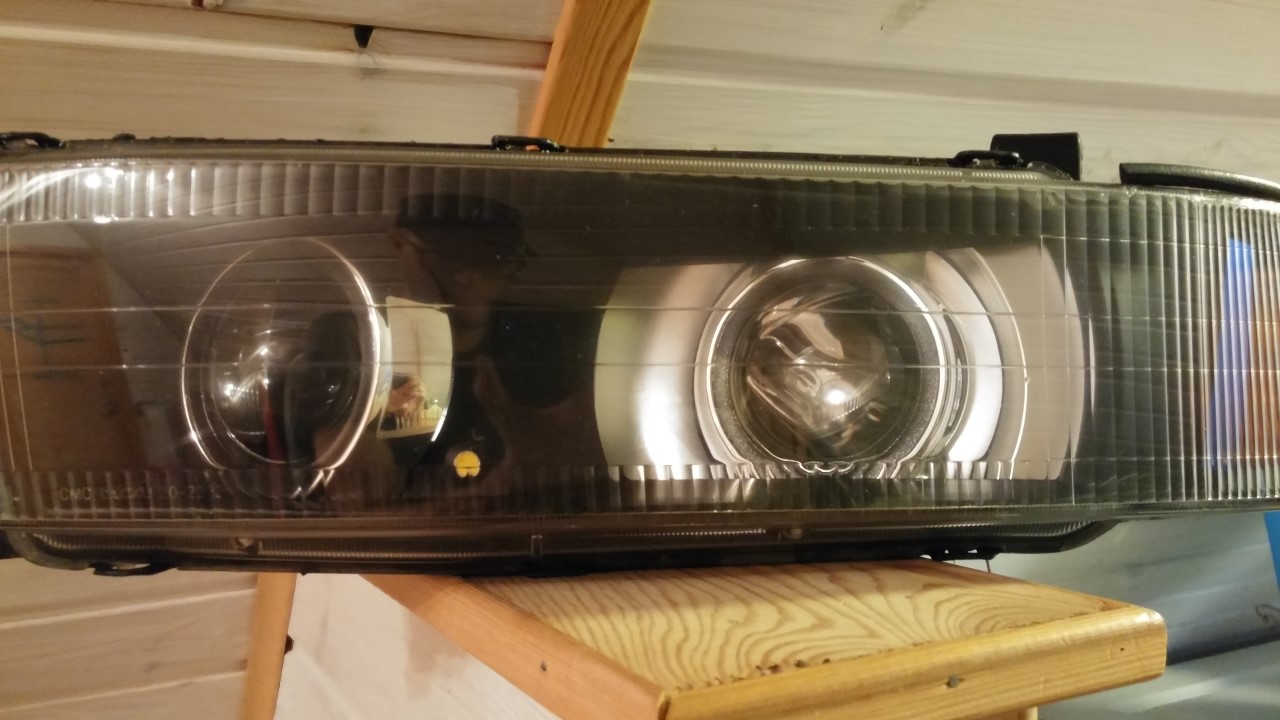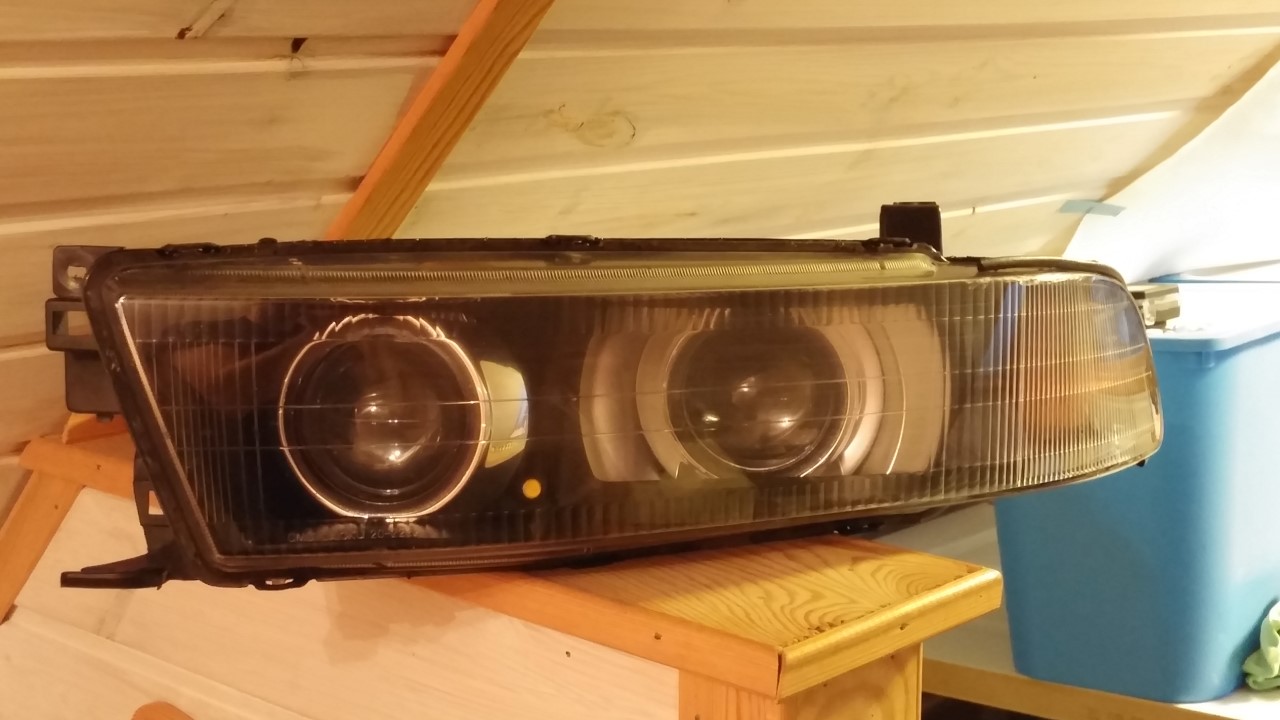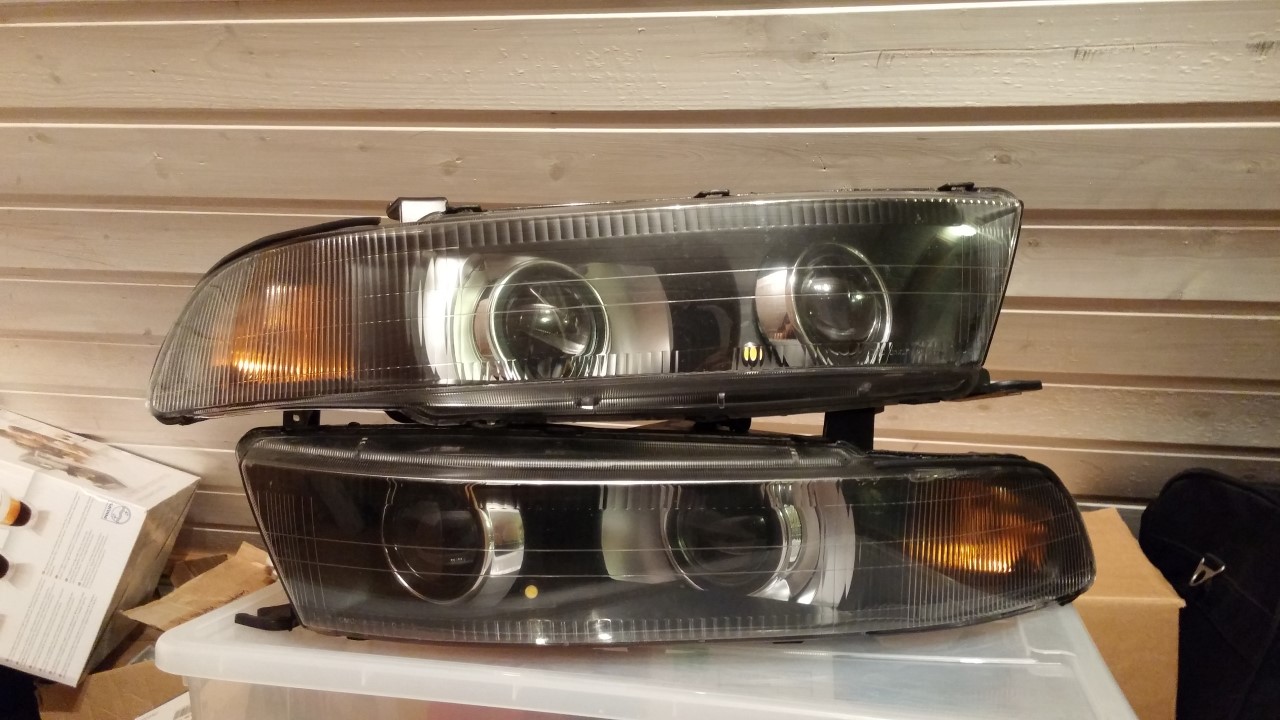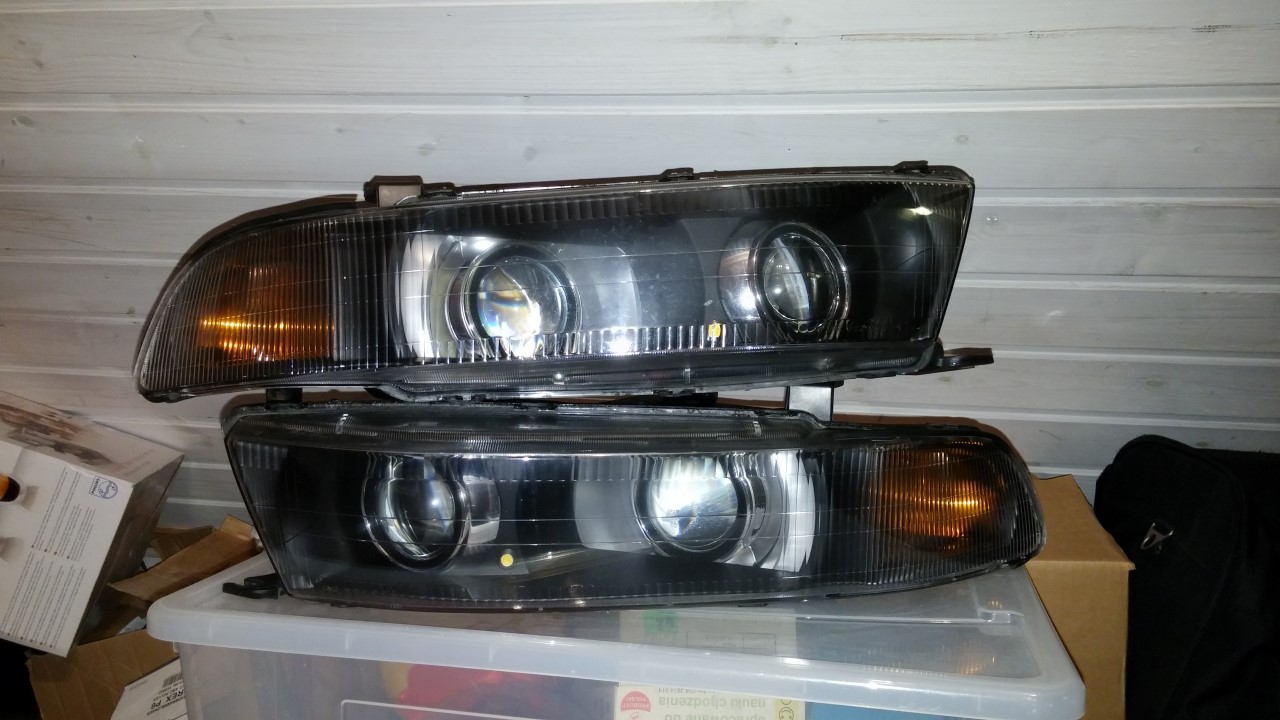 Da var det på tide å hive alt i bilen og kjøre sørover til Simen, og plutselig er vi på installasjons- og ferdigbilder:
OEM halogen, nærlys: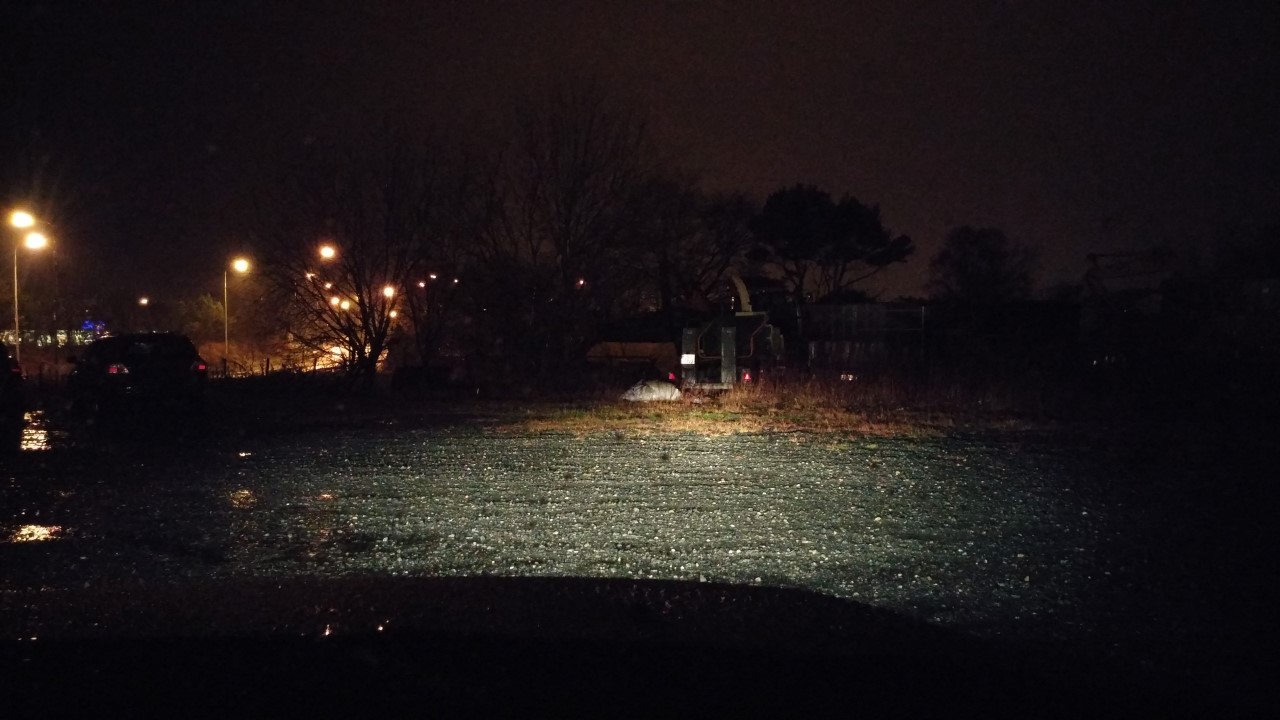 OEM halogen, langlys: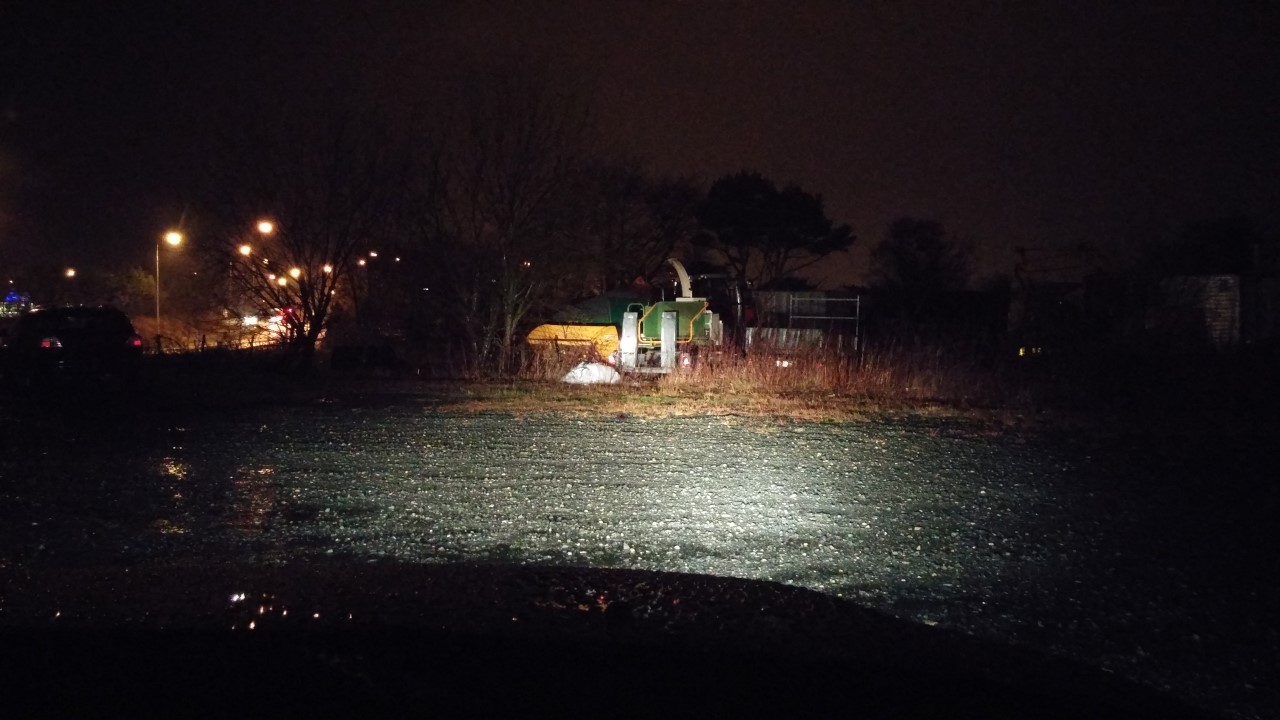 OEM todelte Eurolykter: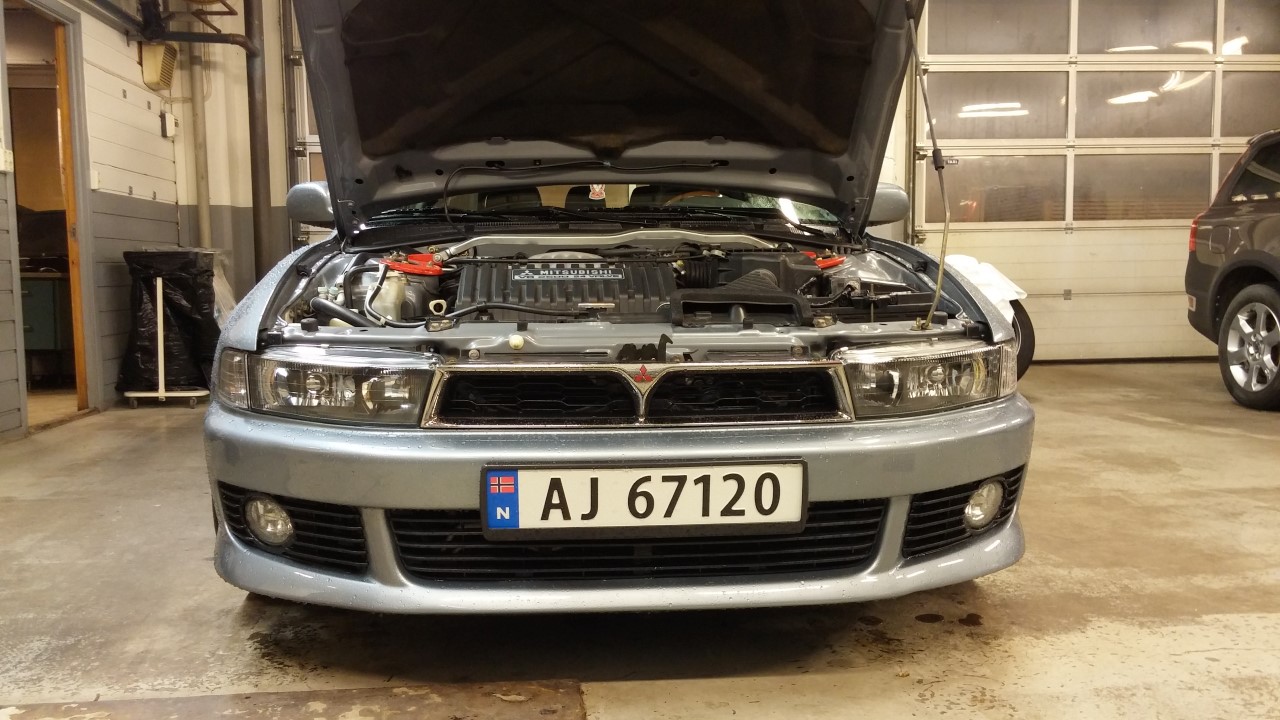 Halogenlys på, nærlys og langlys: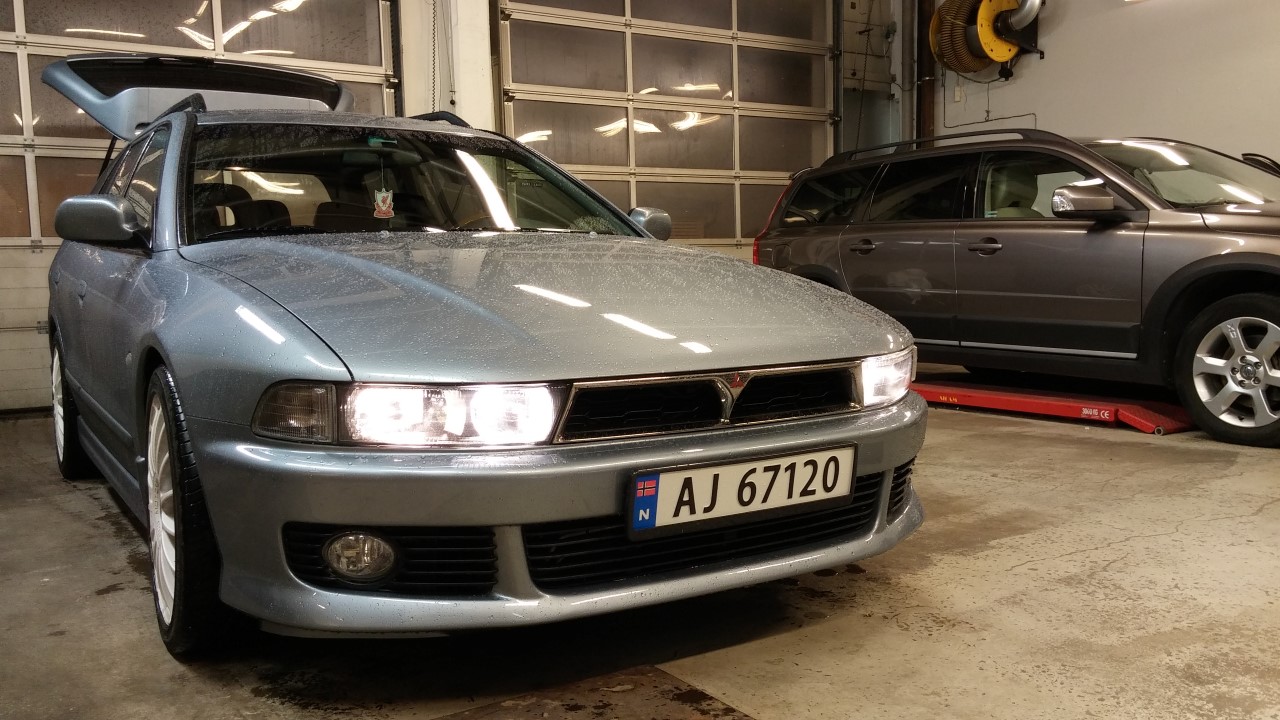 HID-lykter installert og på ("nærlys" og "langlys"):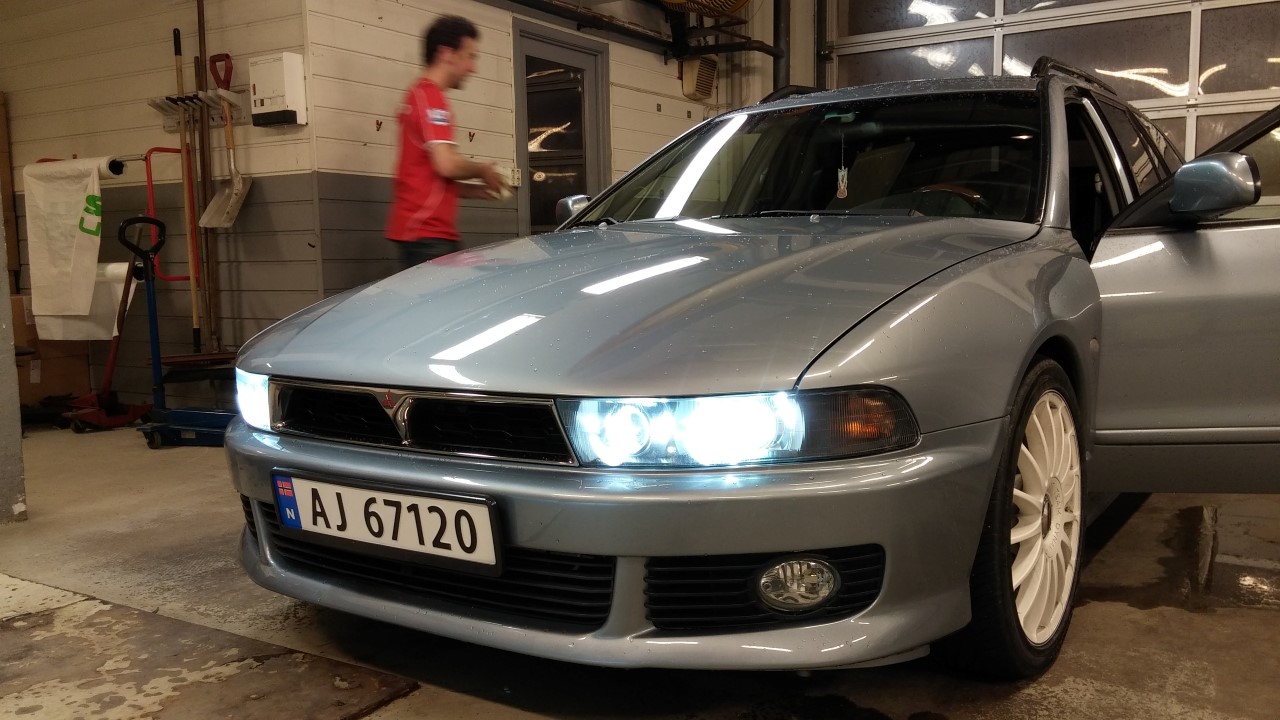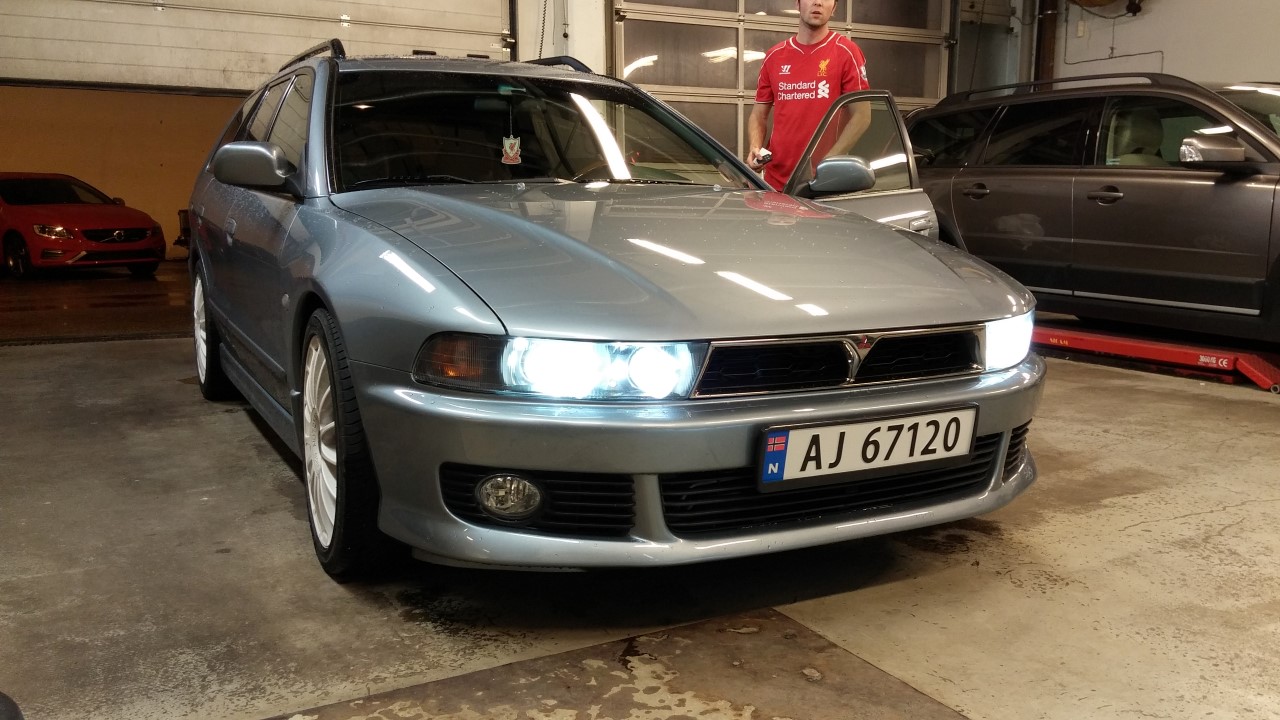 Nærlys: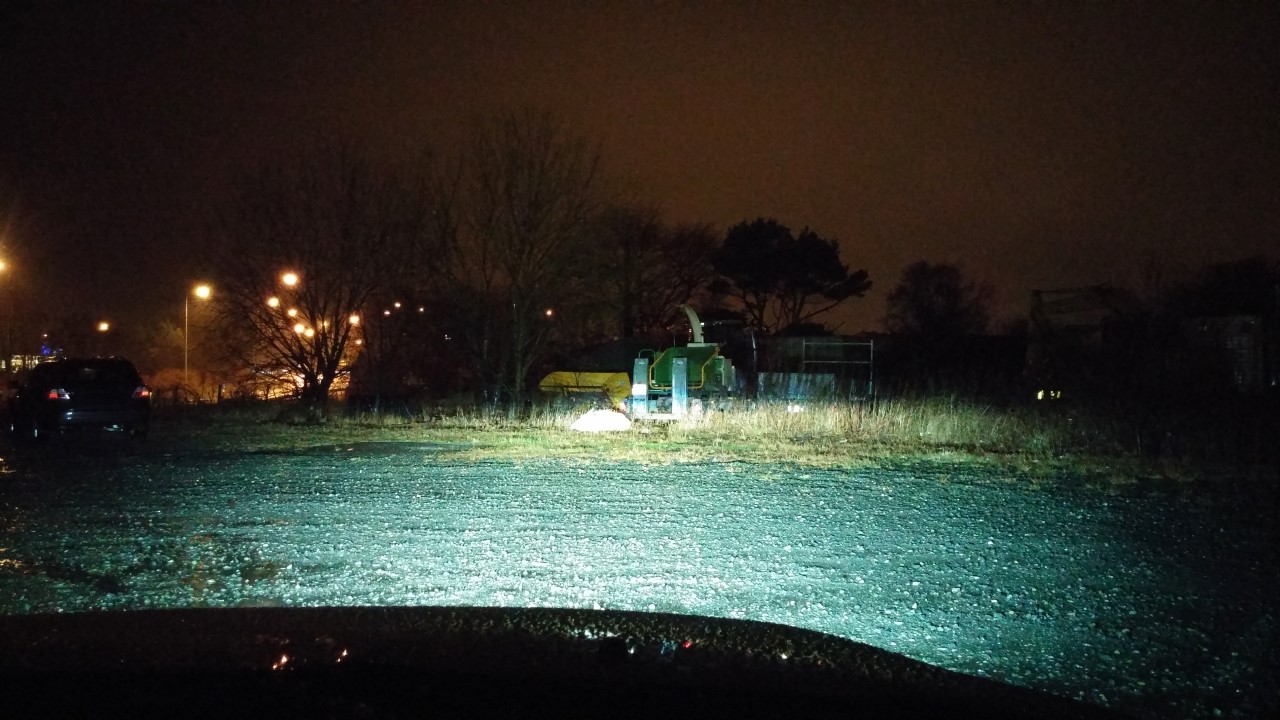 Langlys: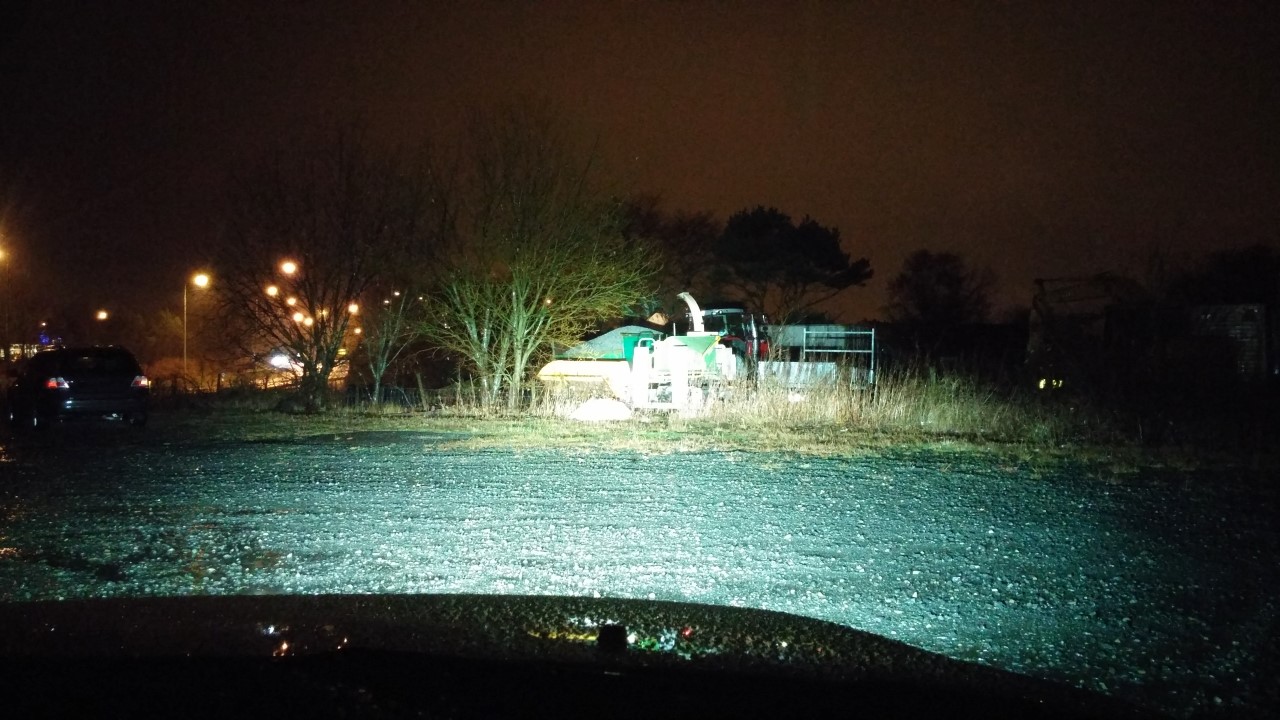 Lyktene ble koblet opp som et permanent quad-oppsett med alt på hele tiden, men Simen ville heller replikere OEM-funksjonalitet og koblet dette om senere (med meg på telefonen) slik at de ytre projektorene er kun nærlys, og de indre er kun langlys. Etter å ha fått dette til kom det frem at det var slik han ville ha det hele tiden, men han misforsto hva jeg mente og jeg misforsto hva han ville ha. Hadde vi forstått hverandre litt bedre i begynnelsen kunne jeg installert en dedikert nærlysprojektor og en dedikert langlysprojektor (evt en EvoX-R uten lysskjold). Uansett, han var kjempefornøyd med oppgraderingen.
...og to måneder etter at han fikk lyktene på bilen skal han selge den. C'est la vie.